How will these resources help you?
The central question about the reign of Richard I is whether he was a good ruler, or whether he simply used his power for his personal interests. These resources offer a detailed chronology of Richard's reign, an analysis of the nature of Angevin government in both England and France and an assessment of his crusading exploits. Each of the syllabus 'Key Topics' are covered in depth. While Richard's flaws are examined, there is also a realistic presentation of his achievements. In addition, the resources engage fully with the original sources. The competing interpretations of Richard present compelling opportunities for students to generate their own opinions of his character as well as of his reign.
An accessible view of the reign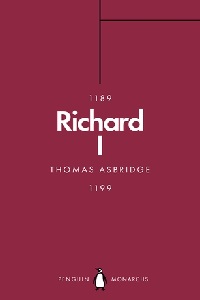 Richard I
by Thomas Asbridge, published by Penguin, (2019), 9780141989938
This book presents Richard in four clear phases of kingship: 'absent', 'crusader', 'warrior' and 'legendary'. This is especially helpful in exploring the reign thematically, offering a fresher perspective than the traditional narrative accounts. Asbridge looks to tease apart myth and legend, and he explores whether Richard was a 'reckless brute' or a 'deft mastermind'. This goes to the heart of the debate on Richard and over a series of lessons students could gather evidence for both sides of the argument before coming to their own conclusion about Richard.
Asbridge explores the depth of Richard's religious commitment to crusading, the argument over how far he simply exploited England for his own purposes and the extent of his military abilities. He suggests that Richard's real driving force was chivalric expectations, not religion. He also suggests that Richard only honed his skills later in life, and that 1194–98 'should be recognized as the pinnacle of Richard's military career.' I would use this as the basis of a comparison task: students could assess the reign in two halves: 1189–93 and 1194–99. They could assemble evidence to rate Richard as a king, a military leader, a diplomat and in regard to his relations with the church.
The definitive account of the reign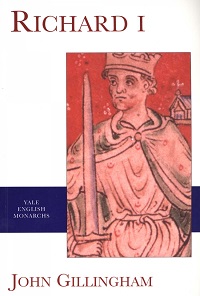 Richard I (The English Monarchs Series)
by John Gillingham, published by Yale University Press, (2002), 9780300094046
Gillingham's biography is detailed and authoritative. I would suggest two main ways to use it in teaching. First, the extremely useful chapter 'Through Muslim Eyes' examines Richard through the Muslim sources – Gillingham calls this 'maybe the best place for a detached judgement of his character and abilities'. This offers an opportunity to do some work with original sources. I would use the extremely helpful footnotes to construct a collection of source material for your students to examine. Second, Gillingham looks to challenge the orthodoxy of the last 200 years with regard to Richard's reputation. The supposed failures of royal government and the Third Crusade are re-examined through the eyes of Richard's contemporaries. Gillingham maintains that 'few rulers can have faced greater difficulties than Richard'. I would use this idea to divide the class into three, with each group taking one difficulty: Saladin, Leopold of Austria, and Philip of France. Students could research the nature of the difficulty, how Richard tackled it, and how successful he was overall.
Richard as a bad leader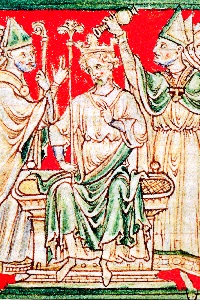 Richard Lionheart: bad king, bad crusader?
by Michael Markowski, published by Journal of Medieval History, (1997)
This highly critical article could be set against the more admiring views of Richard. Accusing the king of having 'self-centred, puerile interests in personal adventures', Markowski presents a very different type of Richard. Arguing that a cautious crusading policy was actually counterproductive to peace, Markowski concludes that Richard 'was no hero, but a man who wanted to fight hand-to-hand forever', and that by failing to lay siege and capture Jerusalem, Richard condemned the region to ongoing war and guaranteed a string of future crusades that were bound to fail.
Great Lives: Richard the Lionheart
by Matthew Parris, published by BBC Radio 4, (2016)
Access this resource
Fortifications: Chateau Gaillard and Les Andelys, A Twelfth Century Defensive Landscape (Richard I's French fortress)
by Stephen Wass
Access this resource
Mark Robinson is a history teacher who has many years' experience of teaching both History and Classical Civilisation. He has also been an examiner. He has written on a wide range of topics for the educational website TEDEd.

Text © Mark Robinson, 2021-2023