How will these resources help you?
Like Queen Elizabeth II, Queen Victoria was a Queen regnant – and a woman. Victoria is one of the most studied women in history – over 500 books have been written about her – yet most of the literature has centred on Victoria's personal life. This has meant that the Queen's determined attempts to influence domestic and foreign policy have received less attention. Victoria was the first Queen in Britain to be a monarch, a wife and mother. As a woman, she had to be above moral reproach. Queen Victoria may have enjoyed less constitutional power than her predecessors but her influence was pervasive and far-reaching. Victoria used her femininity in judicious ways, playing on the chivalry of her ministers. In foreign affairs, she rarely distinguished between the interests of her large family and those of her country. After the death of her husband Albert, Victoria became a recluse, refusing to engage in public ceremonial events. Nonetheless, she regularly tested her constitutional power and constantly intervened in government business, often playing on her widow's grief to get her own way.
Gender and power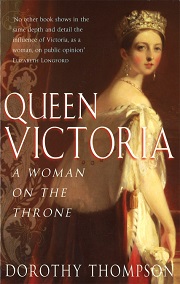 Queen Victoria: A Woman on the Throne
by Dorothy Thompson, published by Virago Press (Hachette), (2008), 9781844085972
This book had a profound effect on me when it was first published. It was the first book to analyse the role of Queen Victoria through the prism of gender and contains fascinating details on a range of issues. I particularly like the way Thompson shows how Victoria projected an image of motherly domesticity while at the same time demanding – tyrannically – that her political wishes be enacted. Like most women of the period, Queen Victoria had to ensure that her moral image was perfect. Thompson shows how the Queen's relationship with her servant John Brown reflected the sex-based double standard prevalent at the time.
Race and power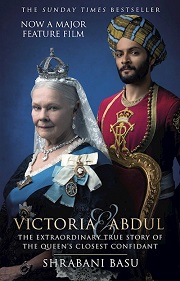 Victoria and Abdul, The Extraordinary True Story of the Queen's Closest Confident
by Shrabani Basu, published by The History Press, (2017), 9780750982580
Queen Victoria was never afraid to be controversial. By developing a close friendship with her servant Abdul Karim, she broke widely held conventions of class, race and gender. Shrabani Basu has written a moving account of how Abdul, a tall, handsome Muslim servant from India, became a powerful figure within Victoria's court. It is both a love story and a political account, illustrating how the Munshi – as he was called – became a friend of the Queen, taught her Urdu and shaped her politics. Under Karim's influence, Queen Victoria took a great interest in Indian political affairs, and even wrote to the Viceroy conveying her sympathy towards Muslims and questioning the way Britain was governing India.
A concise introduction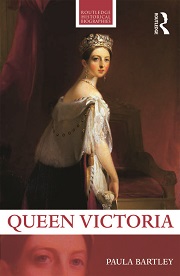 Queen Victoria
by Paula Bartley, published by Routledge, (2016), 9780415720915
I wrote this book because I felt that students needed a biography written from an explicitly historical perspective. I wanted to place Queen Victoria's personal and political life at the centre of an unparalleled period of innovation and reform in which the social, industrial and political landscape of Britain and its empire was transformed. In particular, I examine the Queen's relationships with her various prime ministers, and the way in which she used her power to direct politics. In so doing, I question some of the assumptions and myths that have built up about Victoria, not least about her withdrawal from public life and politics after the death of her husband.
Looking at the archives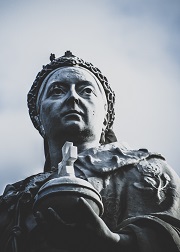 Queen Victoria's Journals
published by Royal Archives and Bodleian Libraries (curated by), (2012)
Victoria left an archival treasure trove of material. By the time of her death, she had written millions of words, often confiding her opinions and emotions as well as writing about the important events of the time. At the age of 13, she began keeping a journal which she kept until a few days before she died, filling 122 volumes. In 2012, these journals were put online for easy navigation. The extract illustrated here is from Queen Victoria's diary on 17 March 1868. In it, she discusses William Gladstone's proposal to disestablish the Church of Ireland, a policy of which the Queen disapproved. At the time, Benjamin Disraeli was prime minister. Disraeli never forgot that she was a woman, flattered her outrageously and was thus able to influence her politics. In contrast, Gladstone treated her as a monarch and intellectual equal, but not as a woman. Queen Victoria did not like this and was frosty towards Gladstone.
The Exercise of Soft Power by Female Monarchs in the United Kingdom
by Anne Twomey, published by Royal Studies Journal, 7(2) pp.31–48, (2020)
Read this article
Victoria: A Life
by by A. N. Wilson, published by Atlantic Books, (2015), 9781848879584
Find this book
Scullery Maids and Suffragettes
by Paula Bartley, published by Routledge, talk hosted by History Royal Places, (2016)
Listen to this resource
Dr Paula Bartley has promoted women's history in schools, colleges and universities her entire adult life. She has published widely on women's history: in 1983 she co-founded the Women in History series for Cambridge University Press aimed at secondary school students. Her later books include Emmeline Pankhurst (2002); Votes for Women (third edition, 2007); Ellen Wilkinson: From Red Suffragist to Government Minister (2014); Queen Victoria (2016) and Labour Women in Power: Cabinet Ministers in the Twentieth Century (2019). In 2021, Paula completed a new book on women activists in 20th-century Britain.

Text © Paula Bartley, 2021.