How will these resources help you?
The 1800s saw the steady flow of colonisers into the American West. This period often focuses on the men who settled there and shaped America as we know it today. However, the impact that women had also needs to be recognised. Women played an important role in shaping everyday lives in the American West across the racial divide. They also often had opportunities open to them that were not available to women 'back East' including the right to vote, holding places in public office, owning their own property and even commanding equal pay in some jobs.
It is against this backdrop that we can focus not only on how women's roles changed more generally in the American West, but also on a number of 'celebrity' women who took the opportunity to carve a niche for themselves in a way that women elsewhere in the States were unable to.
Many people have heard of Calamity Jane in the context of the Wild West. Other women were less infamous and chose the path of being female 'frontiers people', like their husbands and other male relatives. All made history with their courage and tenacity.
These resources aim to help students understand the varied roles women had in the building of modern America, and they allow us to rewrite the narrative around their contribution.
A case study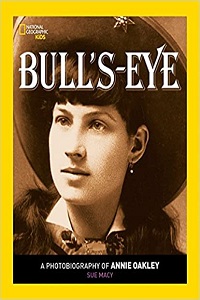 Bull's Eye: A Photobiography of Annie Oakley
by Sue Macy, published by National Geographic Society Children's Books, (2005), 9781426322327
Very well illustrated, this book focuses on the life of Annie Oakley, offering a compelling narrative based on Oakley's own words. The book presents Oakley's extraordinary life and demonstrates why she should be regarded as a role model for women. She was a brave woman who wasn't scared of defying female stereotypes that traditionally bound women to the kitchen and expected them to be submissive to their male relatives, whether that be a father, a brother, or a husband. Macy shows how Oakley engineered her own fate at a dangerous time in American history.
The stuff of legend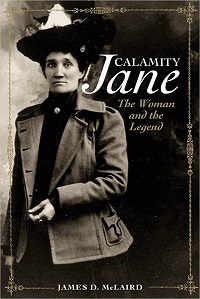 Calamity Jane: The Woman and the Legend
by James McLaird, published by University of Oklahoma Press, (2012), 9780806142517
This biography of Martha Canary, better known as 'Calamity Jane' provides a detailed account of the life and myth surrounding the gun-toting, outspoken and unapologetically forthright woman. McLaird seeks to give voice to a woman whose fight against gender conventions earned her acclaim. Analysis of her as a woman in a highly male-dominated and challenging landscape could elicit interesting class discussions about stereotypical gender roles and what Martha Canary's motives were for stepping away from the stereotype into a limelight that would attract criticism and admiration in equal measure.
A respected warrior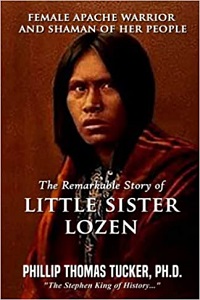 Female Apache Warrior and Shaman of Her People: The Remarkable Story of Little Sister Lozen
by Phillip Thomas Tucker, published by PublishNation, (2022), 9798832331812
Lozen was a female Apache warrior and shaman (healer) who lived during the second half of the 19th century. She was a formidable and inspirational horsewoman and military strategist who was used to shooting and fighting alongside more famous male warriors such as Geronimo. Her own fame has been overlooked but her influence is no less important in the 'struggle from freedom against white encroachment'. While some of the white female 'celebrities' may have become famous for some of the wrong reasons, Lozen was respected by her contemporary male warriors. The Hollywood version of women such as Calamity Jane – while raising their status to celebrity – can, at the same time, be seen to reduce the significance of their impact. Lozen's life, however little known, escaped that. Discuss with students the impact that indigenous female figures have, or more importantly, should have on the landscape of female 'celebrities' in the American West.
Changes in fortune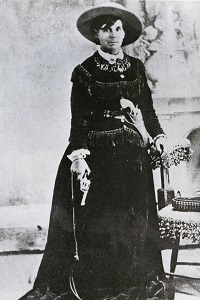 Belle Starr murdered in Oklahoma
by History.com, published by A&E Television Networks, (2009)
Although this article pinpoints the particular day when Belle Starr, the 'Bandit Queen', was murdered, it also provides an interesting portrayal of her early life and how she came to the life she was famous for, rather than the life she may otherwise have lived. You could explore with students how life events – while out of her control (in this case her family's financial ruin following the Civil War) – led Belle to become a renowned cattle and horse thief. You could explore the idea of whether circumstances created the woman she became, or whether she was always, in part, destined to become a celebrity figure living outside of the law.
What Was Life Like for the Pioneer Women of the Wild West?
by Sarah Roller, published by HistoryHit, (2022)
Read this article
Not Just a Housewife: The Changing Roles of Women in the West
by National Cowboy & Western Heritage Museum
Read this article
How the West was Played: The Influence of Wild West Shows on American Identity and Perceptions of Gender, 1870 to 1920
by Justine Macauley, published by Historical Perspectives, Santa Clara University Undergraduate Journal of History, Series II, 15(7), (2010)
Access this resource
Dr Estelle Paranque is Assistant Professor in Early Modern History at the New College of the Humanities, part of the Northeastern University Global Network. She has published extensively on Elizabeth I of England, Catherine de Medici, the French kings and queen consorts and Anglo-French diplomatic relations. She is the author of Elizabeth I of England Through Valois Eyes: Power, Diplomacy and Representations in the reign of the queen, 1558–1588 (2019) and Blood, Fire, and Gold: Elizabeth I of England and her French rival Catherine de Medici (2022).

Text © Estelle Paranque, 2021-2023