How will these resources help you?
Until recently, war history was usually about male combatants, with women being designated to merely supportive roles, or else portrayed as victims. Certainly, spies and secret agents were usually assumed to be men. However, the demands of the Second World War led to gender norms being challenged and moderated. Women were employed in traditionally male industries, joined a number of services, such as the Women's Auxiliary Air Force and the Women's Royal Service, and volunteered for civil defence and other war work. They were not expected to fight but to support the armed forces and their country's war effort. However, in 1941 Winston Churchill set up the Special Operations Executive (SOE) to spy, sabotage, distribute propaganda and work with local resistance groups in German-occupied Europe. The SOE has enjoyed a great deal of publicity, but books about the organisation have often presented it only as a white, male, political and military organisation. These resources about the many women who risked and sacrificed their lives with the SOE address that misconception, and also offer new insights into the complexities of gender relations during the Second World War.
Gender and the SOE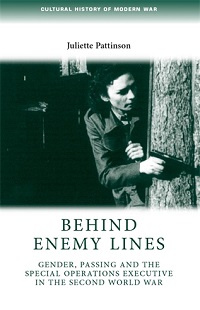 Behind enemy lines: Gender, passing and the Special Operations Executive in the Second World War
by Juliette Pattinson, published by Manchester University Press, (2011), 9780719085093
Pattinson's research is formidable. There is a very useful historiographical section in which the author analyses various accounts of the SOE's history, showing that most were not scholarly texts, but were written for a non-academic audience and are rich in descriptive detail. In contrast, the author has produced a theoretically informed study based on the idea of gender. Pattinson's strength is her ability to interweave factual information into a feminist analytical framework. However, this is no boring academic text but a gripping analysis of how women (and men) reinforced and challenged gender norms. Pattinson includes interviews with surviving SOE men and women. Although SOE women underwent the same physical training as men (including how to parachute, use a gun, blow up bridges and buildings, kill silently, and live and behave as a secret agent), most women were employed as couriers and wireless operators, not as organisers or saboteurs, only taking on combat roles in unusual circumstances. The women learned to wear their femininity as armour, using shopping baskets to hide their weapons and flirting with German patrols to evade discovery.
The women of the SOE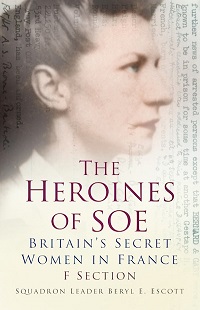 The Heroines of SOE: F Section, Britain's Secret Women in France
by Squadron Leader Beryl E Escott, published by The History Press, (2012), 9780752487298
Escott's book is a good companion to Pattinson's analytical overview. The book is an accessible, descriptive account of these remarkable women, as well as a gripping story in which the women are celebrated for their heroism. Each of the 40 SOE female agents of F (for France) Section is given her own chapter. The women came from a range of backgrounds and countries, had to speak perfect French and be willing to give their lives to help defeat the Nazis. The first woman to be sent to France was Gillian Gerson, a young Chilean-born actress who used her Chilean passport to move around freely in France collecting information; the second was American-born Virginia Hall who did not let her wooden leg stop her from setting up a new network of spies, sabotage and subterfuge. German-born Sonia Olschanezky, who was of Jewish heritage, escaped being sent to a concentration camp and worked for both the French Resistance and the SOE until she was captured, lethally injected and cremated. I was astounded by the courage and determination of these women, brought to life again and rightly commemorated in this book.
'The White Mouse' who roared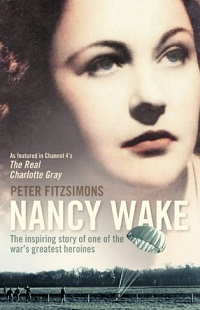 Nancy Wake: The Inspiring Story of One of the War's Greatest Heroines
by Peter Fitzsimons, published by Harper Collins Entertainment, (2002), 9780007144013
Fitzsimons tells a rip-roaring tale of one of the most successful – and certainly one of the most flamboyant – SOE agents. Nancy Wake was born in New Zealand of Maori descent, grew up in Australia, lived in France, joined the Resistance and became a British secret agent. In the Resistance, her work centred on helping refugees, Jewish families and Allied pilots to escape arrest. The Gestapo called her 'The White Mouse': she was top of their list of dangerous people and she fled to Britain. Here she retrained to be a member of the SOE and, in March 1943, was parachuted into France. She lived her secret agent's life with 7,000 men on the Auvergne hillside and adopted a male persona, wearing khaki trousers and army boots, drinking whisky, swearing and playing cards with her male colleagues. Wake was a saboteur, setting explosives to blow up bridges, derailing trains and ambushing Germans. Once, when she tried to blow up a munitions store, she was spied by a sentry, whom she killed by slitting his throat.
The first female wireless operator sent to France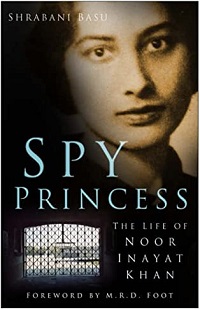 Spy Princess, the Life of Noor Inayat Khan
by Shrabani Basu, published by The History Press, (2008), 9780750950565
Shrabani Basu is an Indian journalist and historian who has written a number of best-selling books. In Spy Princess, she tells a riveting story of British resistance agent Noor Inayat Khan, a Sufi Muslim of royal Indian descent, who was one of the first group of women to train as a wireless operator at the WAAF. In the first authoritative biography of the agent, Shrabani Basu shows how Inayat Khan, who spoke perfect French, was recruited as a special agent and trained in the use of explosives and small arms, as well as how to evade capture. Khan abhorred violence but wanted to fight fascist injustices. In mid-June 1943, Inayat Khan was given the pseudonym Jeanne-Marie Renier, flown to northern France and sent to Paris to work under the code name Madeleine. She was given four pills: one to induce sleep, one to keep her awake, one to induce stomach problems and one to end her life. She left the gun allocated to all SOE field officers behind in London as she did not wish to kill anyone, even the enemy. Although a radio operator's life expectancy was six weeks, she evaded capture until four months after she had arrived in France. In November, she was taken to a prison camp in Pforzheim, Germany, where she was kept hand-cuffed in solitary confinement for ten months before being transferred to the Dachau concentration camp. On 13th September 1944, she was badly beaten and then shot. Noor Inayat Khan was posthumously awarded the French Croix de Guerre and the British George Cross. A commemorative stamp was issued, a memorial bust of her was erected in Gordon Square, London and a Memorial Trust set up.
Audiovisual clip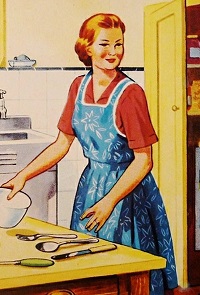 The British Family - Gender roles in the 1950's
published by BBC, (2010)
This clip shows the sheer contrast between the secret agents explored in this list and their achievements, and the expectations society placed on women in the same decades.
The Women Who Spied for Britain, Female Secret Agents of the Second World War
by Robyn Walker, published by Amberley Publishing, (2015), 9781445645841
Find this book
SOE Heroines: The Special Operations Executive's French Section and Free French Women Agents
by Bernard O'Connor, published by Amberley Publishing, (2021), 9781398103382
Find this book
Mission France, The True History of the Women of SOE
by Kate Vigurs, published by Yale University Press, (2022), 9780300264814
Find this book
Noor Inayat Khan Memorial Trust, a non-profit organisation set up to promote peace, non-violence, and religious and racial harmony
Visit this website
Dr Paula Bartley has promoted women's history in schools, colleges and universities her entire adult life. She has published widely on women's history: in 1983 she co-founded the Women in History series for Cambridge University Press aimed at secondary school students. Her later books include Emmeline Pankhurst (2002); Votes for Women (third edition, 2007); Ellen Wilkinson: From Red Suffragist to Government Minister (2014); Queen Victoria (2016) and Labour Women in Power: Cabinet Ministers in the Twentieth Century (2019). In 2021, Paula completed a new book on women activists in 20th-century Britain.

Text © Paula Bartley, 2021.