How will these resources help you?
Schools history understandably puts focus on the 'big events' of protest and rebellion, including the Russian revolutions of 1905 and 1917, Powder River War for the American West, the March on Washington in 1963 and the Peasants' Revolt of 1381. This view of history gives the impression that discontent or opposition only has agency when it is organised into action. Consequently, students may perceive the oppressed as simply submitting to the oppressor for most of their history. An alternative perspective is that of 'everyday forms of resistance', in which powerless people contest and subvert the powerful in all sorts of subtle, hidden and non-confrontational ways – most of which will be very familiar to students themselves in their position of relative powerlessness within the school hierarchy.
Understanding the theory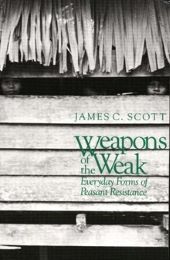 Weapons of the Weak: Everyday Forms of Peasant Resistance
by James C. Scott, published by Yale University Press, (1987), 9780300036411
This book uses peasant societies in Malaysia as case studies but the theory it sets out for understanding how the weak resist the strong is immediately transferable to other historical and contemporary situations. It shows how the powerless resist through various actions such as pretending to misunderstand, evasion and secret sabotage. Scott includes examples that show how, alongside political resistance, cultural resistance is also important: the jokes, nicknames, stories and songs. This cultural resistance mocks the powerful and imagines a social order in which the oppressors are on the bottom and the oppressed are on top, but it also sets up social and moral expectations about how the powerful should act. The powerful most often follow these expectations (for example, in terms of charitable giving to the poor). Scott sees this as a war between the powerless and the powerful, but as a 'cold war' because both sides, as things stand, have too much invested in the status quo to risk an all-out confrontation.
Everyday resistance on a slave plantation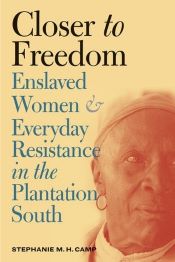 Closer to Freedom: Enslaved Women and Everyday Resistance in the Plantation South
by Stephanie M. H. Camp, published by University of North Carolina Press, (2004), 9780807855348
Most studies of slave resistance focus on slave rebellions and escapes to the North. Enslaved women rarely took part in either of these. Camp has used Scott's theories as a way of exploring the alternative means of resistance by enslaved women. In particular, the book looks at the ways in which women created secret spaces away from their owners' view where they could rest and be themselves away from the constant supervision of white people. At the same time, slave owners tried more and more to fix slaves in place – forbidding travel and requiring slaves to be counted at fixed times and places. Camp describes this as the creation of 'rival geographies', which I feel is something Key Stage 3 and 4 History students would find a relatable concept: most students would know which areas of their school are least supervised, for example. Camp's book is a great way in to a different perspective on slavery in particular and on the ways the powerless resist the powerful in general.
Resistance in totalitarian states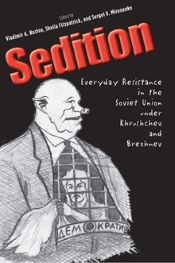 Sedition: Everyday Resistance in the Soviet Union under Khrushchev and Brezhnev
by Edited by Vladimir A. Kozlov, Sheila Fitzpatrick, and Sergei V. Mironenko; compiled by V. A. Kozlov and O. V. Edelman, with assistance from E. Iu. Zavadskaia; translated by Olga Livshin, published by Yale University Press, (2011), 9780300111699
In this book, the concept of everyday resistance is explored in relation to life under the all-pervading supervision of the Soviet State. When we talk to students about the extent of resistance in Nazi Germany and the Soviet Union, we usually discuss the lack of reliable sources for finding out how people really felt about living under regimes that punished dissent very harshly. This book uses the archives of the secret police to reveal 'a society where grumbling and jokes about the government were endemic and where drunken outbursts involving abuse of the authorities and desecration of the flag occurred regularly'. Other wonderful and revealing sources from the police archives are anonymous letters, abusive messages written on ballot papers, overheard jokes and reports of 'gross disrespect' to portraits and statues of Soviet leaders. The book creates a convincing argument for widespread resistance to Soviet state control, albeit in a subversive rather than confrontational manner. It's another very interesting perspective on resistance that, again, students will be quick to recognise from their own experiences of dealing with control and supervision. I was strongly reminded of student responses to my school's Science department's short-lived 'Wonder Wall' (a space for students to post questions about the wonders of our world). 'I wonder…' read the very first anonymous post '…why we have swear words such as **** and ******?'
Audiovisual clips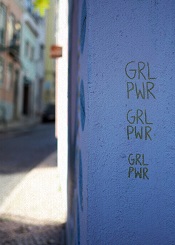 Rebel Women: The Great Art Fight Back - Lubiana Himid
published by BBC, (2018)
Lubiana Himid on what made her choose a career in the arts to change the world.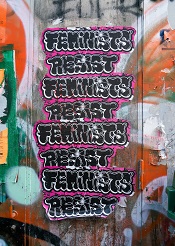 Rebel Women: The Great Art Fight Back - Feminist Art in the 70's
published by BBC, (2018)
This clip tells some of the stories of feminist artists who used their art to change the public perception of women in the 70's.
Domination and the Arts of Resistance: Hidden Transcripts
by James C. Scott, published by Yale University Press, (1992), 9780300056693
Find this book
Conceptualizing 'Everyday Resistance': A Transdisciplinary Approach
by by Anna Johansson and Stellan Vinthagen, published by Routledge, (2019), 9781138556553
Find this book
'Resistance' (in The Cambridge Encyclopedia of Anthropology)
by Fiona Wright, published by University of Cambridge, (2016)
Read the article
Rob Bircher is an author of KS3, GCSE and A-level History resources. His publications include Pearson's Anglo-Saxon and Norman England textbook and revision guides for Edexcel GCSE. He works in a school in Hereford.

Text © Rob Bircher, 2020.