How will these resources help you?
Edward VI remains a complex historical figure. Often overshadowed by his father, Henry VIII, or his sister, Elizabeth I, it can be difficult to get a good grasp of his reign, and – perhaps more importantly – of his character. Edward was a young king, resulting in many historians giving him the nickname 'the boy king'. He received an incredible education, and when he was just a prince, he was very close to both of his sisters. His attitude towards power deserves to be examined further. Historians have also claimed that he was overshadowed by his ministers: his uncle, Edward Seymour, Duke of Somerset, and later, after his downfall, by John Dudley, Duke of Northumberland (who was the instigator of Lady Jane Grey's rise and fall). A good way to approach a study of Edward VI is to discuss these two historical figures, who also played important political roles at his court.
A starting point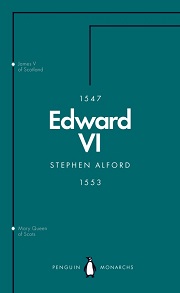 Edward VI: The Last Boy King
by Stephen Alford, published by Penguin, (2018), 9780141987422
A good place to start would be with this short but punchy overview of Edward VI's reign and personality. Alford looks at the ways in which the boy learnt to rule and to grasp the extent of his growing power. Being a child played a role in how Edward ruled and in how he handled his ministers. The balance of power is at the centre of this study, which presents the struggles Edward must have faced. This is a good point of entry for students and teachers alike who are interested in diving into the politics of Edward's reign.
The Reformation during Edward's reign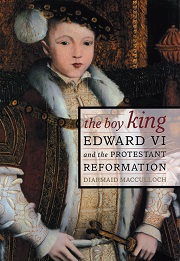 The Boy King: Edward VI and the Protestant Reformation
by Diarmaid MacCulloch, published by University of California Press, (2002), 9780520234024
In this very well researched study, MacCulloch offers a detailed account of Edward's reign and his influence on the English reformation. He also examines how the men around Edward repeatedly tried to increase their own power – creating instability during Edward's reign. More importantly, this book clearly explains the significance of Edward's reign in English history as well as revealing complex partnerships between the king's ministers.
Portrait of the young king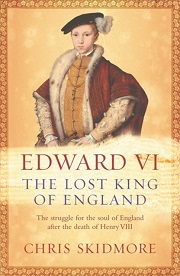 Edward VI: The Lost King of England
by Chris Skidmore, published by Phoenix, (2008), 9780753823514
This book is a good companion to Alford's book, as it delves into the challenges Edward had to face as a king. It also discusses the rebellions that occurred during Edward's reign, including how his government responded to them. In many ways, it offers a new perspective on Edward's own personality as it reveals his interest in languages and classical studies. Skidmore also explores how the Church of England drastically changed during Edward's reign and ponders the real masters behind these changes.
Edward VI: England's Boy King
by B.R. Egginton, published by Amazon publishing, (2021), 9798728958826
Find this book
Edward VI
by Jennifer Loach, published by Yale University Press, (2002), 9780300094091
Find this book
Dr Estelle Paranque is Assistant Professor in Early Modern History at the New College of the Humanities, part of the Northeastern University Global Network. She has published extensively on Elizabeth I of England, Catherine de Medici, the French kings and queen consorts and Anglo-French diplomatic relations. She is the author of Elizabeth I of England Through Valois Eyes: Power, Diplomacy and Representations in the reign of the queen, 1558–1588 (2019) and Blood, Fire, and Gold: Elizabeth I of England and her French rival Catherine de Medici (2022).

Text © Estelle Paranque, 2021-2023