How will these resources help you?
The history of the Byzantine Empire and its royal women and empresses is often overlooked in a school's curricula. However, looking at the women of the Byzantine Empire provides excellent opportunities to not only demonstrate the political agency of women in the middle ages, but also to link to the wider topics of medieval politics and culture. The empress Theodora is a useful case study for the early middle ages, establishing a new status quo after the fall of Rome. The Empress Irene is a great example of a female ruler who was a contemporary (and nearly bride) of Charlemagne. Anna Komnene, Byzantine princess, provides a sage contemporary viewpoint on the early Crusades. These women, and many others, are well worth weaving into lesson plans to add a new dimension to medieval history and bring women to the fore of the narrative.
Excellent overview from the top scholar on Byzantine women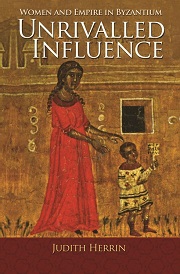 Unrivalled Influence: Women and Empire in Byzantium
by Judith Herrin, published by Princeton University Press, (2013), 9780691166704
Herrin is recognised as a key scholar of Byzantine history, particularly that of its women. This book offers a wider overview, weaving in the history of royal women with that of their female contemporaries. This allows students to look at case studies of particular women (like Irene, or Theophanu, who married a Holy Roman Emperor of the West), and also to read thematic chapters on female exercise of imperial women, religion, the empress' household and state marriages.
The early empresses: biographies from 527–1204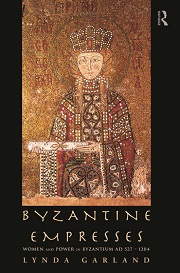 Byzantine Empresses: Women and Power in Byzantium AD 527–1204
by Lynda Garland, published by Routledge, (2011), 9780415619448
This work provides a useful collection of short biographies of thirteen empresses, from Theodora in the 6th century to Euphrosyne Doukaina, who was empress at the time of the sack of Constantinople in the Fourth Crusade in 1204. The important regent/regnant empress Irene is included, as is Maria of Antioch, a bride from the Crusader States who became the second wife of the powerful emperor Manuel I and, later, regent for their son Alexios II, but who met a violent end in Andronicus' hostile takeover in 1182.
Later Byzantine women: biographies from 1250–1500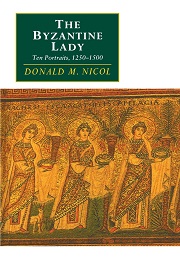 The Byzantine Lady: Ten Portraits, 1250–1500
by Donald M. Nicol (edited by), published by Cambridge University Press / Canto, (1996), 9780521576239
Nicol's collection offers ten short biographies of Byzantine royal women from 1250–1500, making it an excellent resource to pair with Garland's biography of early empresses. Nicol also includes women from Western Europe who married into Byzantium, such as Anna of Savoy, who became regent for her son John V Palaiologos, and Byzantine princesses who married into the West such as Helena Doukaina. Another interesting biography for cross-cultural marriages is that of Mara Brankovic, a Serbian princess who became the influential sultana of Murad II.
Anna Komnene: Byzantine princess and influential author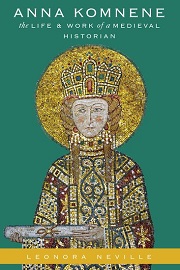 Anna Komnene: the Life and Work of a Medieval Historian
by Leonora Neville, published by Oxford University Press, (2018), 9780190939892
Anna Komnene makes an excellent example to weave into lessons as an important female medieval author, whose work The Alexiad remains a key source for the reign of her father Alexios I and the early Crusades. Neville's work looks at Anna both as a historian (and the cultural rules she broke by writing history) and as a royal woman who was deeply engaged in the dramatic politics of her era. (See also further reading: Anna Komnene and the Alexiad, which offers a viewpoint on Anna and her writing; and Fordham University's Internet Sourcebook for a full text of the primary source The Alexiad online.)
Women in Purple: Rulers of Medieval Byzantium
by Judith Herrin, published by Princeton University Press, (2004), 9780691117805
Find this book
Theodora: Actress, Empress, Saint
by David Potter, published by Oxford University Press, (2017), 9780190692759
Find this book
Anna Komnene and the Alexiad: The Byzantine Princess and the First Crusade
by Ioulia Kolovou, published by Pen and Sword History, (2020), 9781526733016
Find this book
Anna Comnena: The Alexiad (primary source)
, published by Fordham University, (1996), in the Internet Medieval Sourcebook edited by Paul Halsall, originally edited and translated by Elizabeth A. Dawes, Routledge, (1928)
Access this resource
Michael Psellus (1018–after 1078): Chronographia (primary source)
, published by Fordham University, (1996), in the Internet Medieval Sourcebook edited by Paul Halsall, originally translated by E.R.A Sewter, Yale University Press, (1953)
Access this resource
Women in the Byzantine Empire
by Mark Cartwright, published by World History Encyclopedia, (2018)
Read this article
Dr Elena (Ellie) Woodacre is a Reader in Renaissance History at the University of Winchester and an expert in queenship and royal studies.

Text © Elena Woodacre, 2021.