How will these resources help you?
Geography students studying ecosystems are often required to study an example at a local scale, with woodlands being a popular choice. Some students are lucky enough to be able to get outdoors and carry out their own investigations into these habitats, while others can find out about woodlands using resources in the classroom. Whatever situation you find yourself in, these resources will help students appreciate and understand woodlands as a local-scale ecosystem.
Britain was once a rainforest nation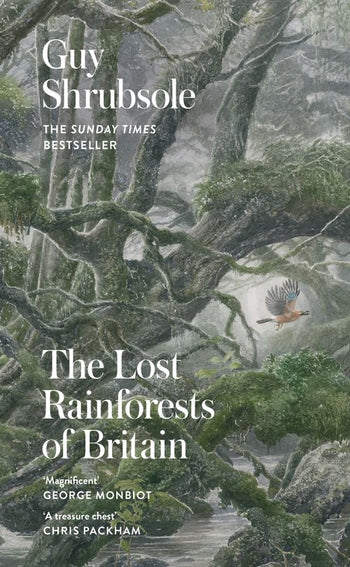 The Lost Rainforests of Britain
by Guy Shrubsole, published by Harper Collins, (2022), 9780008527952
Shrubsole discovered that Britain was once a rainforest nation while walking through patches of temperate rainforest on the edges of Dartmoor. He defines temperate rainforest as 'a wood where it's wet and mild enough for plants to grow on other plants. Temperate rainforest is actually rarer than the tropical variety: it covers just 1% of the world's surface.' This book tells his story of researching and visiting places with temperate rainforests across the UK. He shares his pleasure at their lush greenness while also emphasising that without protection, we risk losing them forever from the landscape. Using extracts from this book could bring a lesson on woodland ecosystems to life, encouraging students to see the beauty of this habitat as well as learning about it as a scientific system. (There is a useful website associated with the book that includes resources, maps and case studies:
https://lostrainforestsofbritain.org
.)
Identifying woodland flora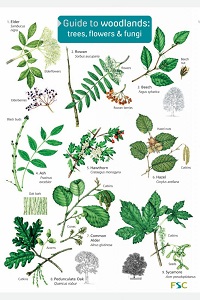 Woodland trees, flowers and fungi
by Trehern, Harper & Sheilds, published by Field Studies Council, (2021), 9781908819635
This set of easy-to-use and interesting identification cards will enable teachers and students with access to woodlands to identify the trees, flowers and fungi they come across. This could be used along a transect across a woodland or using quadrats (easy to make by pulling a wire coat hanger into a square) to record different species found. The cards are fold-out, lightweight and showerproof, making them ideal for work outside the classroom. As they are laminated, students could circle the organisms they find with board pens, with cards being wiped clean after use. Exploring woodlands in this way will enable students to make connections and deepen their understanding of this ecosystem as well as give them the opportunity to engage with nature.
Where can we visit woodlands?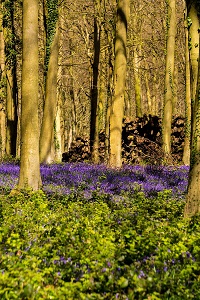 Best forests and woodlands to visit in the UK
published by Countryfile Magazine, (2022)
This resource starts with an introduction to woodlands, including what they are and who cares for them in the UK, with useful links to follow for further information. The remainder of the resource suggests the best woodlands and forests to visit in different parts of the UK, which could provide useful information and inspiration for geography teachers looking to take their students to a woodland for fieldwork. An alternative would be to give pairs of students one of the woodlands from this list and ask them to prepare a virtual field visit to share with their class.
How do woodlands operate as systems?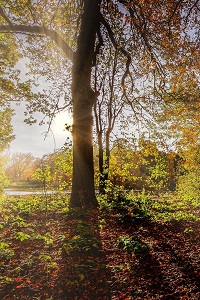 Ecosystems: Knowledge Boosters
by Dr Sarah Arnold, published by Time for Geography, (2020)
These four videos from 'Time for Geography' consider temperate deciduous woodlands as the UK's climatic climax ecosystem, in terms of biotic and abiotic components, through their different habitat layers and in relation to topography. The videos are presented by Dr Sarah Arnold, who researches and lectures on ecology and entomology at the University of Greenwich, making a valuable link between school and university geography. Each video is between two and four minutes long, making them ideal to use in the classroom to illustrate key points about woodland ecosystems. If students cannot get out of the classroom to see a woodland for themselves, this well-shot video is the next best option.
Half the trees in two new English woodlands planted by jays, study finds
by Patrick Barkham, published by The Guardian, (2021)
Read this article
Hedgerows: a small-scale UK ecosystem
by Rob Bircher, published by Geography Education Online, (2020)
Access this resource
Woodland change over 70 years at Beinn Eighe NNR (StoryMap)
, published by Nature Scot, (2021)
Access this resource
Resources for schools: Ecosystems fieldwork techniques
, published by the Royal Geographical Society
Access this resource
Catherine Owen is Head of Geography at The King Alfred School an Academy, a CGeog and a Geographical Association Consultant. She writes and presents for OUP, Hodder Geography, Tutor2U and more.

Text © Catherine Owen, 2022-2023