How will these resources help you?
This topic has appeared in Geography specifications under 'Natural Hazards'. However, as these resources will demonstrate, human activity such as arson, uncontrolled debris burns, campfires and engine sparks are the most common sources of ignition. That said, wildfires are certainly hazards for ecosystems, climate, and human settlements. Wildfires can have immediate and long-term effects on the quality of rivers, lakes, and streams, but also bring ecological benefit. The sharp rise in uncharacteristically large fires in recent years has been linked to climate change and human settlement in forested areas. These resources will allow teachers and students to make sense of the role of fires in ecosystem change and the devastating impacts they leave behind.
California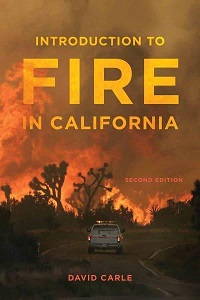 Introduction to Fire in California: Second Edition
by David Carle, published by University of California Press, (2021), 9780520379145
This is an ideal book to start with, giving a broad overview of causes, effects, and management of wildfires. The book was written in 2021 when many parts of the world, including the Amazon, Australia, and the Mediterranean experienced more extreme fire seasons. However, California is the focus here. The key link to ecosystems is the chapter on vegetation types, which are diverse in California and range from deserts to wetlands, and coniferous forests to shrubland. Chapters that follow include impacts in wildlife, soil, water and air, and impact on the climate crisis. Reviews praise the book for its wide use of maps and photos, ideal for engaging students in this exciting topic.
Australia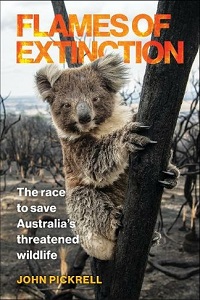 Flames of Extinction: The Race to Save Australia's Threatened Wildlife
by John Pickrell, published by NewSouth Publishing, (2021), 9781742237169
Australia's early months of 2020 were labelled its 'Black Summer'. Images of koalas drinking from the water bottles of firefighters made headlines. This book focuses on the wildlife affected. The writer interweaves accounts of the professionals and communities fighting to protect a selection of Australia's iconic animals, in particular, possums, wombats and the platypus. This leads to a call to action on the climate crisis. The most common theme in the reviews is that 'everyone should read it that cherishes life on earth'. It is a very readable account of Black Summer, with students highly likely to engage in the stories of the protection of the animals involved.
The future of wildfires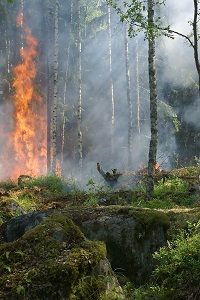 Fires, Forests and the Future: A Crisis Raging out of Control?
by the Boston Consulting Group, published by World Wide Fund for Nature, (2020)
This resource is an authoritative, clear and concise report from the WWF published during the devastating 2020 wildfire season. Student friendly, with a clear structure and regular infographics and diagrams, the report makes sense of the impacts of wildfires in different parts of the world and in different ecosystems. The report acknowledges that fires triggered naturally play an important role in natural cycles, maintaining biodiversity and regenerating forests, but also examines the effects of fires, highlighting that 75% of all recent fires were caused by human activity. These effects include impacts on biodiversity, the economy and health and wellbeing. It concludes with recommended actions for individuals and governments and those involved in international agreements. The structure of the report makes it ideal for students' independent research.
Audiovisual clip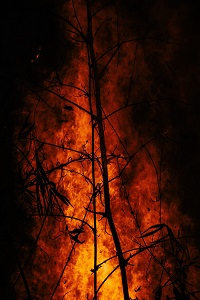 Britain's Wildest Weather - Wildfires in the UK
published by Channel 4, (2020)
Heatwaves in 2020 caused wildfires in Surrey and this clip shows experts analysing the impact of global warming on the local territories.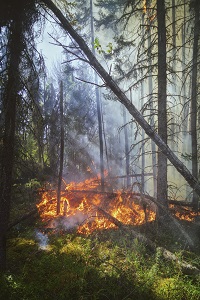 Journeys into the Ring of Fire - The 2003 Wildfires
published by BBC, (2006)
An exploration of causes and consequences of wildfires in California.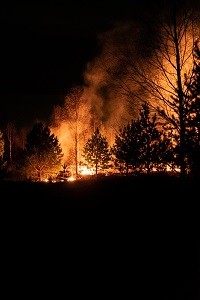 Panorama - Rising temperatures and wildfires
published by BBC, (2020)
Real-life footage of a wildfire in the UK, with insights into how climate change is affecting the frequency of these events.
High winds, heat boost fire threat as California faces long season
by Diana Leonard, published by The Washington Post, (2022)
Read this article
Wildfires threaten the world's oldest trees—but prescribed burns are protecting them
by Alejandra Borunda, published by National Geographic, (2021)
Read this article
Fireball-dropping drones and the new technology helping fight fires
by David Helvarg, published by National Geographic, (2020)
Read this article
David Newell is Head of Geography at Millais School in Horsham, West Sussex. He has held the GA's Secondary Geography Quality Mark since 2015, and has worked as a Specialist Leader in Education, advising schools on improving their Geography provision.

Text © David Newell, 2022.