How will these resources help you?
The question of why we are still using this energy source does not have a simple answer. The transition to renewables requires the gradual phaseout of fossil fuels that many people see as too slow and supportive of the oil companies. Teachers may find it challenging to teach about the continued reliance on fossil fuels, despite the need for change and the complicated issues that arise with renewables and non-renewables. These resources will inspire critical thinking and debates and provide material for classroom activities.
Ending Fossil Fuels: Why Net Zero is Not Enough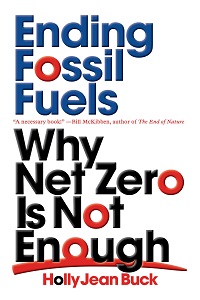 Net zero, what's the fuss?
by Holly Jean Buck, published by Verso, (2021), 9781839762345
This book combines facts and case studies to discuss the hard truth that ending fossil fuels is not easy while showing the importance of change. Buck looks at how companies and governments use 'green' terms and go net zero to promote their agendas, with very little actual change. The issues and questions often raised by students (for example, 'How can we end fossil fuel production - given the economic and political influence of the oil and gas companies - before it's too late?' 'How can we increase production and use of renewables to fill the gap?' 'How do we tackle the issue of alternative employment for people who work in non-renewable industries?') are well covered through case studies. Key terms are explained, and Part III has a useful 'Phaseout Toolbox for the 2020s'. Overall, this is a great book for looking at where we currently are in the phasing out of fossil fuels and the harsh realities about the fossil fuel industry that we sometimes ignore.
Energy transitions, now and the future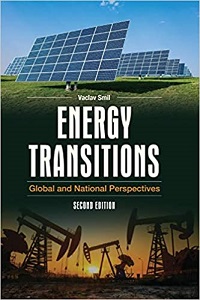 Energy Transitions: Global and National Perspectives
by Vaclav Smil, published by Praeger, (2016), 9781440853241
Smil is a factual writer who deeply understands the fossil fuel debate from his own research and work. The book discusses the different types of energy systems and the pace of energy transitions, starting with what we have, what is currently being achieved and where we could go. Chapter 4 on decarbonisation sheds light on why it has been and will most likely continue to be a gradual change. This book gives the reader an insight into the different rates different countries are transitioning (if at all). This could be used for case studies and to encourage debate.
Decision making for the future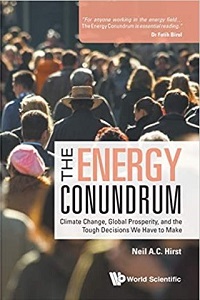 The Energy Conundrum: Climate Change, Global Prosperity, and the Tough Decisions We Have to Make
by Neil A.C. Hirst, published by WSPC (Europe), (2018), 9781786346674
This book gives a good overview of the history of energy and the impacts of our energy use. It also summarises energy policies and energy finance, which many textbooks neglect. Hirst writes in a way that keeps the reader engaged and does not avoid the complexities of the arguments around fossil fuels. At the end of the book are two case studies of two imaginary countries – one rich and one poor – where the reader is invited to be the policy maker for that country, which would allow students to explore the topic and come up with their own conclusions.
Fracking, an example of energy changes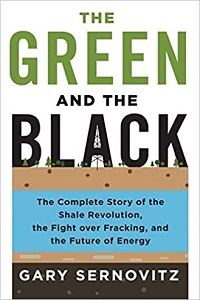 The Green and the Black: The Complete Story of the Shale Revolution, the Fight over Fracking, and the Future of Energy
by Gary Sernovitz, published by St Martins Press, (2016), 9781250080660
This engaging and interesting book is an eye-opener about fracking from someone who works within the US industry but also cares about the environment. Sernovitz sets out why and how fracking is being carried out. He discusses the issues of what might have happened if fracking had not developed when it did, which offers debate material for the classroom. The book is a good read for anyone interested in fracking and energy policies and would pair well with case studies on fracking. It enables the reader to delve deeper into why we are developing additional ways to reach fossil fuels instead of solely focusing on renewables.
Coal and Energy in South Africa: Considering a Just Transition
by Lochner Marais, Phillippe Burger, Maléne Campbell, Stuart Paul Denoon-Stevens and Deidré van Rooyen (edited by), published by Edinburgh University Press, (2021), 9781474487054
Find this book
Why are fossil fuels so hard to quit?
by Samantha Gross, published by Brookings, (2020)
Read this article
A Critical Approach to Climate Change Adaptation: Discourses, Policies and Practices
by Silja Klepp and Libertad Chavez-Rodriguez (edited by), published by Routledge, (2020), 9780367459048
Find this book
Mining's Role in Energy Transition
, published by Time for Geography, presented by Professor Iain Stewart, (2022)
Watch this video
Sarah Darby is a Geography teacher who studied hurricanes for her dissertation. She writes geography course material and case studies.

Text © Sarah Darby, 2022.