How will these resources help you?
With so much focus on fossil fuels, we may fail to consider the contribution of farming to climate change and ways in which changes to farming practices could help mitigate against and adapt to it. The first resource shows the significant role of agriculture in climate change and how knowing this can enable us to take steps towards mitigation. Other resources explore what these steps could involve, including regenerative agriculture, agrivoltaics and sustainable agricultural systems. Further material provides examples of where these practices are being used successfully. This reading is useful for GCSE geography students and teachers looking at sustainable food production and tackling climate change and for A-level students studying the carbon cycle.
The significance of agriculture's role in climate change mitigation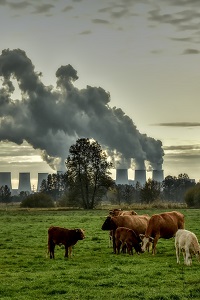 Agriculture's Contribution to Climate Change and Role in Mitigation Is Distinct From Predominantly Fossil CO2-Emitting Sectors
by John Lynch et al, published by Frontiers, (February 2021)
This paper clearly sets out the importance of agriculture in its contribution to climate change, then explores how this understanding can be used to communicate this contribution more clearly and to prompt mitigation measures. The authors argue for a change in how greenhouse gas emissions (in particular methane and nitrous oxide) are reported to better reflect how different gas emissions impact agriculture. Although this is a scientific paper, it is written in a straightforward, accessible way, and is full of useful information about how emissions are quantified and the journey to net zero.
How regenerative agriculture can make a difference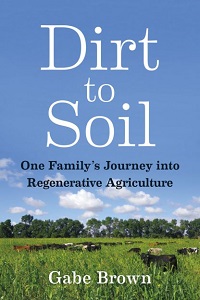 Dirt to Soil: One Family's Journey into Regenerative Agriculture
by Gabe Brown, published by Chelsea Green Publishing, (2018), 9781603587631
The Brown family farm was struggling to survive when the author decided to experiment with regenerative agriculture to cut costs. The farm now boasts a range of crops and livestock, with thicker topsoil and greater biodiversity. The regenerative approach mitigates climate change by not using artificial fertilisers, which contribute significantly to carbon emissions during their production. The development of topsoil also sees more carbon being safely stored in this carbon sink. Brown argues that regenerative agriculture can improve ecosystems and combat climate change alongside being profitable for the farmer. A strong message of hope, this book offers older students a range of examples to support their understanding of farming in relation to mitigating climate change.
What are agrivoltaics and how can they help?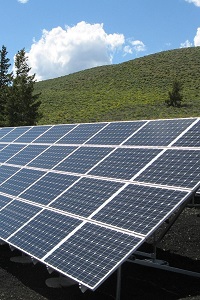 Kenya to use solar panels to boost crops by 'harvesting the sun twice'
by Geoffrey Kamadi, published by The Guardian, (February 2022)
Agrivoltaics involve using solar panels to produce renewable energy in the same space as growing crops, allowing farmers to reducing carbon emissions from the energy they consume. This article explores how growing crops under solar panels in Kenya keeps the crops shaded, reducing water loss and helping growth. The approach has limitations, but could be used in remote areas to provide both food and energy. Students studying sustainable food resources, renewable energy, farming practices, carbon cycles or climate change would benefit from being made aware of this example and researching other contexts in which agrivoltaics are being used successfully.
How can farmers adapt to climate change?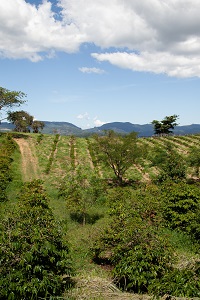 4 Ways Farmers Can Adapt to Climate Change and Generate Income
by Miguel Calmon & Rafael Feltran-Barbieri, published by World Resources Institute, (December 2019)
Taking Brazil as their context, the authors explore how farmers could both adapt to climate change and ensure their farms are profitable using integrated crop-livestock-forestry systems, rehabilitated pastures, agroforestry and/or sustainable forestry. These practices make farms more resilient in terms of extreme weather, climate change and economic markets. Careful use of indigenous practices and native species is highlighted: it would be interesting for students to study this aspect of the article and then seek their own examples from different countries.
Audiovisual clip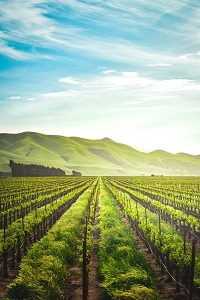 Weather World - Climate change and arable farming
published by BBC, (2021)
How does climate change affect farming? This clip answers the question with an example from Kent.
Next steps for climate change mitigation in agriculture (Policy Brief 2)
by Eva Wollenburg & Christine Negra, published by CGIAR Research Program on Climate Change, Agriculture and Food Security (CCAFS), (2011)
Read this article
Climate-Smart Agriculture - an integrated approach to managing landscapes that address the interlinked challenges of food security and climate change
, published by The World Bank, (2021)
Access this resource
Regenerative farming shift could reduce UK climate emissions say experts
by Tom Levitt, published by The Guardian, (August 2021)
Read this article
Catherine Owen is Head of Geography at The King Alfred School an Academy, a CGeog and a Geographical Association Consultant. She writes and presents for OUP, Hodder Geography, Tutor2U and more.

Text © Catherine Owen, 2022-2023