How will these resources help you?
Tropical storms feature widely in Natural Hazards units as climatic hazards across GCSE and A-level syllabuses. Students often struggle in answering questions on their formation. These resources explain this in different formats, and also investigate the experience of surviving such an event through eyewitness testimony. A range of storms are analysed, supporting GCSE students with interpreting storm track maps, cones of uncertainty and storm surge vulnerability. Similarly, A-Level students can practise through evaluation and interpretation of geographical information. The resources also consider the response at local, governmental and non-governmental levels. In an age of increasing environmental vulnerability, adaptation and mitigation are vital if we continue to live in coastal settlements. These resources prepare students for questions on cause, effect and response, and allow them to assess the extent to which contrasting levels of wealth plays a role in the ability to respond.
What?, Where?, and Why?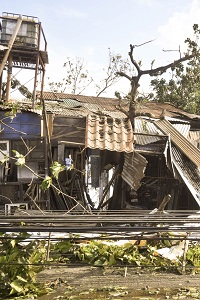 Deadliest Hurricanes and Typhoons: Tropical storms documentary
published by YouTube, produced by Pioneer Productions for The Learning Channel, (1998)
This is a very watchable documentary on the causes and effects of tropical storms, which, although quite old, remains relevant and is an ideal way to introduce the topic to students. After ten minutes of an inspiring introduction to the power of tropical storms, the documentary explains the anatomy of the storm and the ingredients required for its formation. At this point I cover formation with students through diagram sequencing and labelling, ensuring that they can explain the formation in writing and diagrammatically (GCSE questions often give students the option). The documentary moves on to explore the effects of several typhoons. Through eyewitness testimony, students are introduced to the destruction caused, and in particular how this varies between areas of contrasting levels of development. This is a stimulus for student enquiry into the reasons. For example, deaths in the US hurricanes shown here were limited due to mass mandatory evacuations.
Impact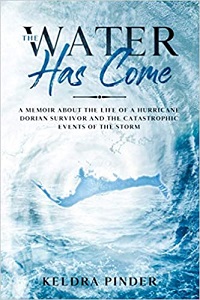 The Water Has Come: A memoir about the life of a Hurricane Dorian survivor and the catastrophic events of the storm
by Keldra S. Pinder, published by bookow.com, (2020), 9784040201610
This is a landmark book on the topic, giving a very personal account of survival during Hurricane Dorian in the Bahamas in 2019. This storm was one of the strongest ever recorded, with a one-minute sustained wind speed of 185mph. The book really does transport students into the event with the writer who was trapped in her roof for 36 hours. One review states, 'The book brings you right into the rafters with them.' The physical impact on infrastructure is often the most newsworthy, and the emotional and psychological impact is often ignored. This book deals with this well, concluding with a chapter on PTSD. The writer explains that she wrote the book in such a way that it needs to be read to the end, to learn the fate of the people whose experiences she describes. Each chapter is very short (4-5 pages), and so students can be selective if needed in what they cover. This readable and accessible book is excellent background reading on the experience of a tropical storm. The book features on the excellent website
https://dorianandbeyond.org
, which contains a gallery and testimonies from many that survived.
Response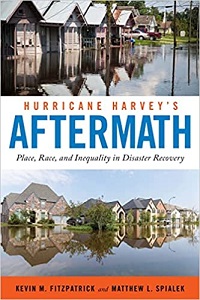 Hurricane Harvey's Aftermath: Place, Race, and Inequality in Disaster Recovery
by Kevin M. Fitzpatrick and Matthew L. Spialek, published by NYU Press, (2020), 9781479800759
This book tells the compelling story of Hurricane Harvey's impact on the USA's Texas Coast in 2017. The community is introduced, and the anticipation and experience described. Chapters 6 and 7 of this book focus on response, stressing the need to involve citizens and civic organisations in the development of disaster management plans, and at national level, arguing that national disaster policy should emphasise investment in disaster mitigation. The authors offer several takeaways on disaster response.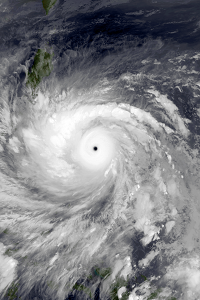 Super Typhoon Haiyan, Philippines 2013: A Look Back at the Response to One of Asia's Worst Natural Disasters
by Gordon Willcock and Michael Robinson, published by Direct Relief, (2020)
This resource is ideal for independent student enquiry into the responses to Typhoon Haiyan. The first interactive map highlights the affected area, as well as providing key facts including numbers killed and displaced. The photos are engaging as starter activities, such as the well-publicised ship on the land. The resource then moves onto examine the work of Direct Relief, providing students with statistics to substantiate exam questions on immediate disaster response and the work of NGOs. The map this time gives an excellent representation of the relief of the country, and the funnel-shaped bay at Tacloban that suffered the storm surge. Long-term response is then covered with another interactive map. A carefully designed worksheet would support students in this independent enquiry, based on an annotated map to illustrate effects and response.
The Track of Hurricane Ida
by Force Thirteen, published by YouTube, (2021)
Watch this video
National Hurricane Center and Central Pacific Hurricane Center
, published by US Department of Commerce, National Oceanic and Atmospheric Administration, (2022)
Visit this website
The unique ways Filipinos are protecting their homes against floods
by Regine Cabato, William Neff and Hannah Dormido, published by The Washington Post, (2022)
Access this resource
Surviving Vanuatu's Cyclone (Podcast minutes 1-11)
, published by BBC News World Service, (2015)
Listen to this podcast
Hurricane Dorian: Path of destruction
, published by BBC News, Latin America, (2019)
Access this resource
Floodlines Community and Resistance from Katrina to the Jena Six
by Jordan Flaherty, published by Haymarket Books, (August 2010), 9781608460656
Find this book
David Newell is Head of Geography at Millais School in Horsham, West Sussex. He has held the GA's Secondary Geography Quality Mark since 2015, and has worked as a Specialist Leader in Education, advising schools on improving their Geography provision.

Text © David Newell, 2022.