How will these resources help you?
With so many people and organisations waking up to the consequences of overconsumption and unsustainable living, now is the perfect time to explore alternative lifestyles and approaches with our students. While people around them may aspire to drive cars and own big homes, young people may choose to prioritise other goals in their lives. Will they be able to live car-free lives in cities where public transport and walking/cycling are viable choices? Will they choose the simplicity of small houses? How could these choices affect their quality of life and the environment? However, we also need to look at these sustainable choices from a critical perspective; is living in a tiny home or a van really a lifestyle choice if people can't afford anything else? These books, articles and papers look at the exciting potential for small houses and car-free cities and how inequalities are forcing some people to make these 'choices'.
Is bigger necessarily better when it comes to our homes?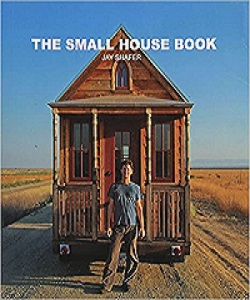 The Small House Book
by Jay Shafer, published by Tumbleweed Tiny House, (2009), 9781607435648
The small house (or tiny house) movement promotes smaller homes and simplified living, which has excellent potential for making housing more sustainable. Shafer built his first small house in 1999 and lived in it for five years, then used his experience to write his first book, which popularised the idea of small houses in the US. Shafer built his house on wheels to avoid planning restrictions and so that he could be mobile. This book is an updated version of the first book and starts with Shafer taking the reader through his builds, all illustrated with photographs. The second part of the book challenges us to think about what makes a good home, suggesting that small houses can meet our needs and keep us content while also considering the sustainability issues of big homes. Part Three gets into the technical details of building a small house, again illustrated with photos. The portfolio of designs in the final part of the book is fascinating and could provide a superb springboard for a project where students design their own tiny house. What can we achieve when we think small?
How can we escape the grip of the car?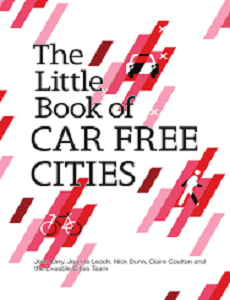 The Little Book of Car Free Cities
by John Urry et al., published by ImaginationLancaster, (2017), 9781862203440
How did we come to desire to live in 'autopia' and why isn't it working? Urry's team from the Liveable Cities Project start by unpicking these questions, then considers how 'cracks in the system' could be exploited to work towards having car-free cities. A wide range of examples are used to illustrate the car-free scenario, from the anti-roads movement of the 1990s in the UK to restrictions to parking in Freiburg and including Sunday street closures in Colombian cities such as Bogota. The city of Birmingham is used to investigate the potential of and barriers to becoming a car-free city, including reference to West Midlands Integrated Transport Authority's Strategic Transport Plan. The 'redesign' workshops included could easily be replicated in a classroom concerning students' own area or an area they are studying – they could even get out the modelling dough, as Group 1 does in the book!
Is there space for tiny houses in the UK?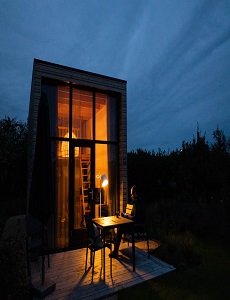 Why the tiny house is perfect for now
by Beverley D'Silva, published by BBC, (2022)
Tiny houses may not take up much physical space, but do we have the mindset to embrace them in the UK? This article suggests that we do, using examples of tiny houses in Northumberland, Bristol and Scotland to support the proposal that tiny houses are 'perfect for now'. As D'Silva says, 'Economical, portable, eco-friendly, community-minded, mortgage-free – what's not to like?' However, there are obstacles to overcome, including the cost of land to site the tiny house and complications with planning permission. Despite these limitations, the examples included show that tiny houses can succeed and be the basis of small communities. This article could form the stimulus for a web investigation into how the projects in Bristol and Edinburgh are faring. Students could also consider whether this approach to regeneration is more sustainable than the large-scale regeneration schemes we often see in city centres.
What if small houses aren't really a choice?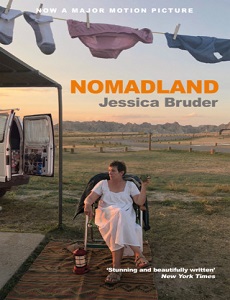 Nomadland (book)
by Jessica Bruder, published by Swift Press, (2021), 9781800750302
The small house movement and the idea of 'van life' may have taken off in the US, but is this a good thing? The previous readings suggest that it is, but this book (and film) explores the pressures forcing people to move into vans and the challenges they face, as well as celebrating the simplicity and sometimes beauty of their lives. The book's focus is the plight of older people in the US who find themselves unable to pay their bills and so move into 'wheel estate'. These 'nomads' travel around the country from job to job, working at campsites, warehouses and farms, unable to afford retirement. Bruder shows admiration for the resilience of the people she writes about and despair at the inequalities in society which force them into this lifestyle 'choice'. While small houses and 'van life' may be exciting for some, is it sustainable to have a society where people are being forced to live this way?
Audiovisual clip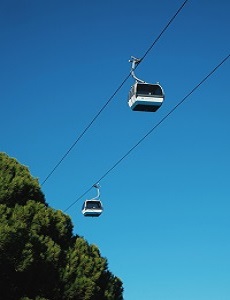 World's Busiest Cities - The Mexico City cable car
published by BBC, (2017)
The Mexico City cable car system covers about 3 miles with seven stations and the ticket prices make it afforbale to travel for all inhabitants.
'It's a sanctuary': The magic of quiet, low cost, allergy-free 'passive' homes
by Aliya Uteuova, published by The Guardian, (2022)
Read this article
Five Trends Influencing the Future of Our Cities
by Amy Kolczak, published by National Geographic, (2017)
Read this article
Best little (sustainable) house in Africa
by Helen Swingler, published by This is Africa, (2019)
Read this article
Living car-free by choice in a sprawling city: Desirable and … possible?
by Hayley Paijmans and Dorina Pojani, published in Case Studies on Transport Policy, (2021)
Access this resource
Nomadland (film)
by Chloé Zhao and Jessica Bruder, directed by Chloé Zhao, 20th Century Studios/Searchlight Pictures, (2021)
Find this film
Catherine Owen is Head of Geography at The King Alfred School an Academy, a CGeog and a Geographical Association Consultant. She writes and presents for OUP, Hodder Geography, Tutor2U and more.

Text © Catherine Owen, 2022-2023