How will these resources help you?
Transport is at the centre of any urban sustainability initiative, yet success in making our movement sustainable is often elusive. These resources discuss how we must not settle for the dominance of the car and dare to dream of an alternative and offer a series of case studies of success stories worldwide that show that delivering a sustainable transport system is possible. The ideas of contested space and how places change is central here, encouraging GCSE students to evaluate with AO3 and A-level students with AO2/3. These serve as excellent secondary research sources for fieldwork, as well as examples of climate change mitigation. London is a good example, rated third in Europe for its bus system. Students may find the series of 'megaprojects' of the future especially engaging – they can critically assess their sustainability, not just environmentally but also socially and economically.
A new vision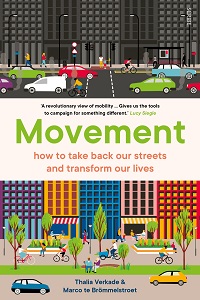 Movement: how to take back our streets and transform our lives
by Thalia Verkade and Marco te Brömmelstroet (trans. Fiona Graham), published by Scribe UK, (2022), 9781911344971
According to one review, 'this book will – no question – make you think in new ways'. This book challenges the assumption that the streets belong to cars by pointing to the damage they do to our health and planet and asks, 'who do our streets belong to, what do we use them for and who gets to decide?' This revolutionary view of mobility is ideal for equipping students for GCSE AO3 (analysing geographical information to draw conclusions), with chapters on why we live this way, who the victims are, and what will happen if we continue. The last two chapters explore ways of doing things differently. This fits well with A-level units on 'Dynamic Places' and 'Changing Places, Making Spaces' and even as a secondary source for urban fieldwork at all levels. The A-level content of 'lived experience of place' here is the Netherlands: while some see this as a 'mecca for cycling', the book extends its critical analysis, by not accepting it as the urban utopia in which it is often portrayed.
Reclaimed spaces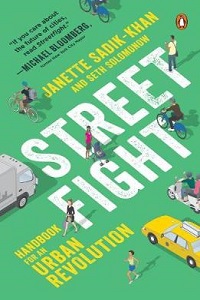 Streetfight: handbook for an urban revolution
by Janette Sadik-Khan, published by Penguin Books (USA), (2017), 9780143128977
This is an inspirational book by an urban visionary focusing on New York. One review describes it as a 'feel-great read for those of us who love cities, especially as pedestrians and cyclists'. While data-driven and in places 'hands on', this book is certainly accessible for students at GCSE and above. The book contains a wide range of international case studies of urban reclamation projects working towards better functioning streets and more sustainable transport (and so to encourage socialisation, business opportunities, less pollution and a more pleasant urban environment). Again, ideal for GCSE AO3 and AO4 (geographical skills) as the book contains geographical information in many forms, particularly the fascinating before-and-after images of contested spaces in New York City. Another valuable secondary source for urban fieldwork, particularly at A-level.
The sustainable transport paradigm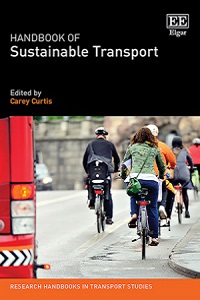 Handbook of Sustainable Transport
by Carey Curtis (edited by), published by Edward Elgar Publishing Ltd, (2022), 9781789900460
A hands-on, academic book, drawing on a range of geographical data in the search for the elusive paradigm of sustainable transport. Each chapter is highly authoritative and explores a wide range of case studies to demonstrate what can be achieved and that sustainable transport can be a reality. The key components of sustainability are analysed, and in this case, the 'triple helix' of social, economic, and environmental sustainability are supporting a fundamental shift away from increased car numbers and the provision of an infrastructure to cope. At GCSE, carefully selected evidence for decision-making exercises can be presented to students when studying the key content of Sustainable Cities. At A-level, students could make more independent use of the resource. For both levels, the book serves as excellent secondary research to support fieldwork.
Audiovisual clip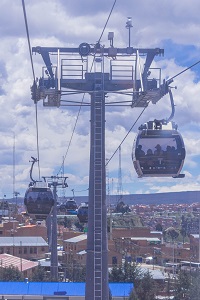 World's Busiest Cities - Transport in the city
published by BBC, (2017)
Anita Rani explores public transport in Mexico City.
Podcast episode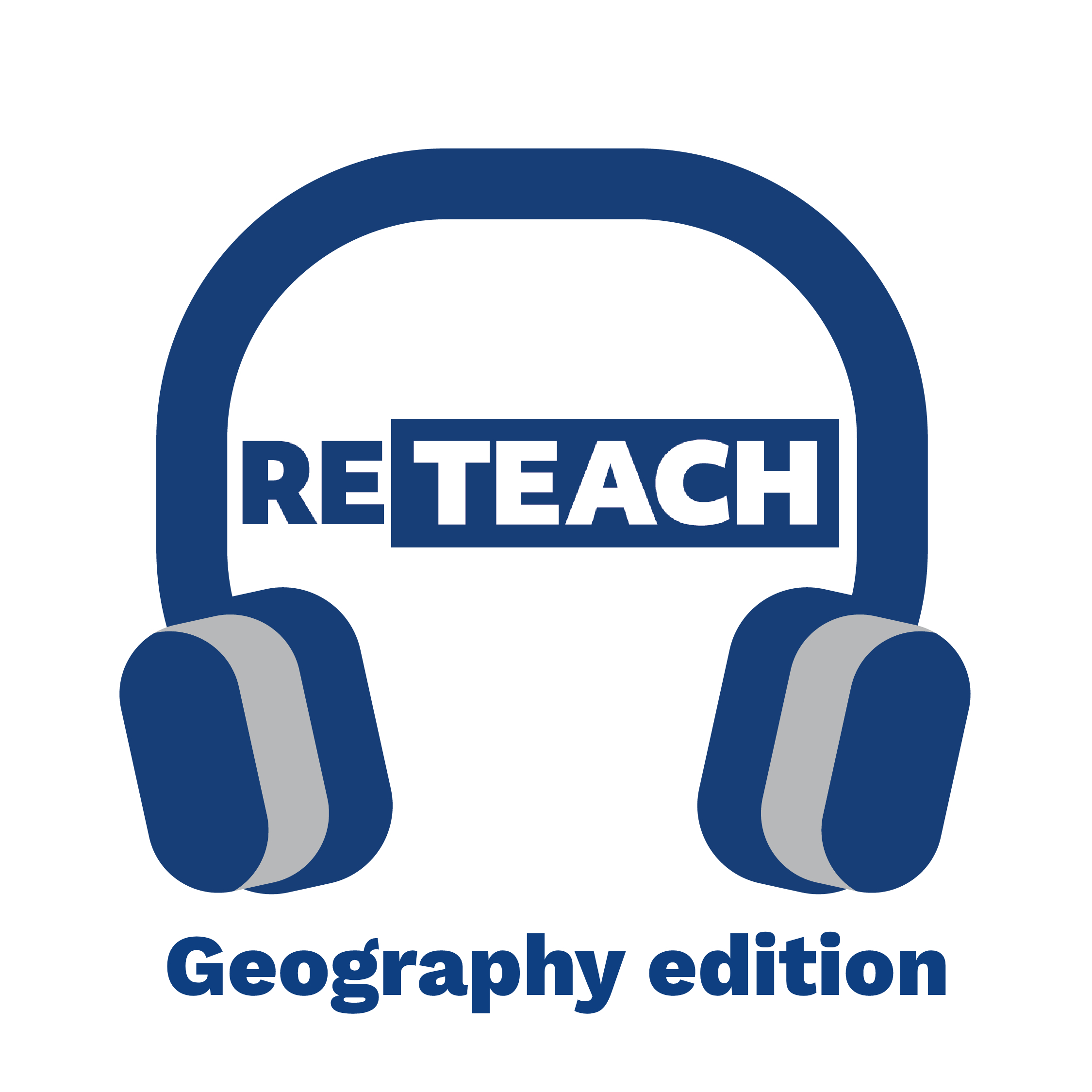 RETEACH GEOGRAPHY - Carey Curtis on Sustainable Transport
(2023)
Dr Carey Curtis joins host Kit Marie Rackley from the University of Melbourne to discuss sustainability in transport and urban planning, the importance of balance between land use and infrastructures, and the tension between principles and their implementations from a feasibility angle, with a focus on Oxford's low-traffic neighbourhoods.
London in top three for Europe's for most sustainable transport city
by Tom Seymour, published by Smart Transport, (2020)
Read this article
House of Commons Debate Future funding of urban transport
, published by Local Government Association, (2022)
Access this resource
David Newell is Head of Geography at Millais School in Horsham, West Sussex. He has held the GA's Secondary Geography Quality Mark since 2015, and has worked as a Specialist Leader in Education, advising schools on improving their Geography provision.

Text © David Newell, 2022.