How will these resources help you?
If you are teaching about Nigeria as a case study, these resources will help you and your students see the nation through the eyes of those with past and present connections. They include the accounts of people with family links to Nigeria visiting the country as personal explorations (one a Black Nigerian and the other a relative of a past white British coloniser); a clear message about the potential lying dormant in Nigeria and why it isn't being used; and reflections by authors and artists on Nigeria in the 2020s. Combined, these resources enable the reader to connect with Nigeria as a country the authors feel passionately about, delving into the history, geography and culture to appreciate the complexity of the 'giant of Africa'.
A daughter returns to Nigeria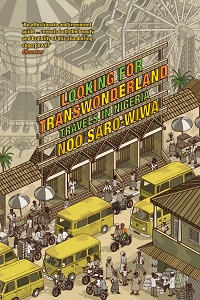 Looking for Transwonderland: Travels in Nigeria
by Noo Saro-Wiwa, published by Granta Books, (2013), 9781847083319
Saro-Wiwa, a noted travel writer, grew up in England, dreading her holidays to Nigeria, which ended when her activist father was murdered for speaking out about corruption in the Nigerian government. The author decided to take a road trip to rediscover the country of her birth and record her personal journey as her sense of solidarity with the Nigerian people grows. At times, she despairs at the noise, disorganisation and evidence of poor leadership she encounters. However, her love of the stunning landscapes, rich cultures and warm people is evident. This accessible book is a great read for teachers and GCSE/A-level students, giving a real insight into this complex country.
A grandson returns to Nigeria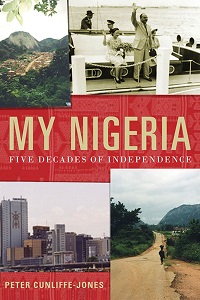 My Nigeria: Five Decades of Independence
by Peter Cunliffe-Jones, published by St. Martin's Press, (2010), 9780230620230
Cunliffe-Jones' predecessors were involved in the colonisation and, later, the independence of Nigeria. As an established journalist, the author wanted to explore Nigeria through the lens of his personal connections. He explores Nigeria's colonial past and challenges since independence, including political corruption and exploitation of its vast reserves of natural resources. Like many others, Cunliffe-Jones sees great potential in Nigeria but recognises that this is not being achieved. The book is an engaging read and an ideal companion for Saro-Wiwa's, bringing a richness of understanding of Nigeria to the reader.
Strong words from a proud Nigerian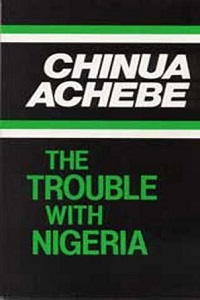 The Trouble with Nigeria
by Chinua Achebe, published by Pearson Education, (1984), 9780435906986
Achebe is recognised by many as the 'father of African literature'. (His novel, Things Fall Apart, tells the story of colonisation through the experience of a Nigerian family.) This short book is a political commentary, criticising the leadership of Nigeria at the time and linking it to the failure of the country to achieve its potential. Proud of Nigeria's resources, both natural and human, Achebe suggested in this book that there were good leaders who could develop the country and blamed issues such as tribalism, indiscipline and corruption for its problems. A-level students could be challenged to reflect upon the extent to which these issues are still relevant in present-day Nigeria.
Reflections on Nigeria in the 20s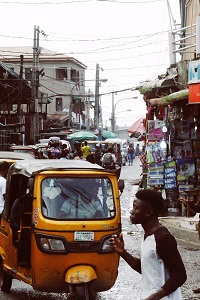 My Nigeria: five writers and artists reflect on the place they call home
by Abubakar Adam Ibrahim, Noo Saro-Wiwa, Chika Unigwe, Wale Lawal and Umar Turaki, published by The Guardian, (2021)
Five authors and artists share their views of Nigeria: Noo Saro-Wiwa considers the frustration expressed by young Nigerians on social media and their lack of opportunities to shine in a country that lacks infrastructure, vision and investment for the young; Abubakar Adam Ibrahim shares his experiences of worrying about violence and abduction when travelling; Chika Unigwe discusses times when she is proud to be Nigerian, but also times when that pride 'dissipates into something cold and limp'; Wale Lawal looks at how a lack of direction has affected Nigeria in the past and during the COVID pandemic; and Umar Turaki explores his natural optimism about Nigeria and how this has become harder to maintain. These writers are passionate and, at the same time, deeply worried about their home nation. A useful exercise at GCSE or A-level would be to give opinions to groups of students, challenging them to research the context of the view shared.
The Brutish Museums: The Benin Bronzes, Colonial Violence and Cultural Restitution
by Dan Hicks, published by Pluto Press, (2021), 9780745346229
Find this book
Bring Back Our Girls: The Heart-Stopping Story of the Rescue of Nigeria's Missing Schoolgirls
by Joe Parkinson and Drew Hinshaw, published by Swift Press, (2021), 9781800750906
Find this book
Lagos – an urban case study
by Richard Bustin, published by Geography Education Online, (2021)
Access this resource
Next stop Nigeria?: 'Britain is not always preferable to Nigeria'
, published by BBC News, BBC Minute, (2018)
Watch this clip
Welcome to Makoko - A tour of the world's largest floating slum in Nigeria
, published by BBC News, BBC Minute, (2018)
Watch this clip
Catherine Owen is Head of Geography at The King Alfred School an Academy, a CGeog and a Geographical Association Consultant. She writes and presents for OUP, Hodder Geography, Tutor2U and more.

Text © Catherine Owen, 2022-2023