How will these resources help you?
Disagreements over water supplies can lead to conflict, and poor access to safe water greatly affects people's quality of life. Water supply issues affect many parts of the world, including London, where a high population density leads to demand greater than supply and Texas, where the Ogallala aquifer is rapidly depleting. These issues can be interwoven through the geography curriculum, with links made to resource management, urbanisation, desertification, migration, development and more. These texts, both non-fiction and fiction, will aid the exploration of a range of areas related to water supply and stimulate your thinking about this increasingly important issue.
What happens when the rivers run dry?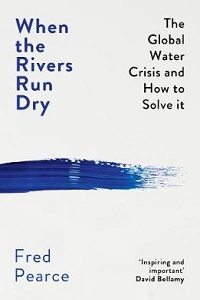 When the Rivers Run Dry: The Global Water Crisis and How to Solve It
by Fred Pearce, published by Granta Books, (2019), 9781846276484
Pearce's book is divided into parts. Each 'part' begins with the title: 'When the rivers run dry … ' and ends with a different phrase, for example: 'the poor take to the road … '; 'American loses the West … '; 'the wet places die … '; 'we mine our children's water … '; 'engineers pour concrete … '; 'floods may not be far behind … '; 'we go to war over water … '; 'civilisations fall … '; 'we try to catch the rain … '; 'we go looking for new water … '; 'we should go with the flow'. As you can see, these sections start with strong messages about the damage our use of water is causing, but the final sections are full of hope. This book uses examples from across the globe and supports points with detailed evidence and lived experiences of visiting these places. A very readable book suitable for both teachers and older students.
What is it like to struggle through a time of drought?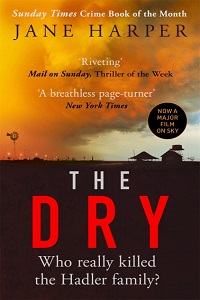 The Dry
by Jane Harper, published by Little, Brown, (2017), 9780349142111
This novel is a crime thriller set in a time of terrible drought in a small town in Australia. It captures the tension of a community suffering from drought and a murder. The book is full of wonderfully descriptive text showing the impact of 'the dry' on the landscape and the people, with the prologue beginning:
'The drought had left the flies spoiled for choice that summer. They sought out unblinking eyes and sticky wounds as the farmers of Kiewarra levelled their rifles at skinny livestock. No rain meant no feed. And no feed made for difficult decisions, as the tiny town shimmered under day after day of burning blue sky.'
By an Australian author, this book will immerse you in the tragedy of drought, taking you beyond your own experience. It has also been made into a film with an age rating of 15+.
'Day Zero': what it is and why it looms over South Africa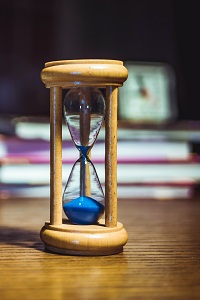 Day Zero: Where next?
by Jon Heggie, published by National Geographic (Partner Content)
In 2019 Cape Town in South Africa was facing 'Day Zero' – the day it would run out of water. This article explores the complex causes of this water crisis, how water shortages had already affected rural areas and how the Cape Town crisis was averted for a time. Geography lessons often focus on water insecurity in the Sahel, so this is a refreshing look at issues in a different part of the diverse continent of Africa. South Africa is much wealthier than much of Africa, but development has put pressure on the environment as agricultural, industrial and domestic water use demands have grown. The article ends by predicting that the country will run out of water by 2030 'without a fundamental mind shift in the way South Africa thinks about water.' This short piece could easily be used in a lesson, with guided reading questions drawing students to think about key issues of cause, consequence and response to water insecurity.
How water supplies in Texas are dwindling while people battle over them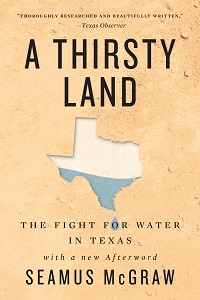 A Thirsty Land: The Fight for Water in Texas
by Seamus McGraw, published by University of Texas Press, (2020), 9781477322444
This fascinating book explores a complex situation in an accessible way, which makes it suitable for both teachers and interested students. McGraw starts his exploration of water issues in Texas with a chapter focusing on the 1968 State Water Plan, which aimed to tackle the problem of rapid urban growth in an arid area by importing water from the Mississippi River. However, the plan was voted down due to its huge cost and Texas has continued to suffer water shortages. Other chapters explore examples of profligate water usage, such as farming alfalfa in imported water (needs to grow in 6 inches of water) for luxury resorts (supplied by expensive desalination plants), for fracking and keeping parks and gardens green in Dallas. The final chapter ends with ideas for the future; perhaps legislation will limit water use in the production of fossil fuels, or people may accept more water recycling.
Audiovisual clip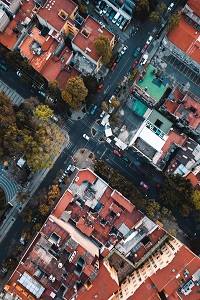 World's Busiest Cities - Water shortage
published by BBC, (2017)
Mexico City uses more water than any other city in the world, and it's facing a serious water supply shortage at the moment: this clip explores how locals try to overcome the difficulty.
Water: The Epic Struggle for Wealth, Power, and Civilization
by Steven Solomon, published by Harper Collins, (2011), 9780060548315
Find this book
Water Wisdom: The Indigenous Scientists Walking in Two Worlds
by Jane Palmer, published by Eos, (2021)
Read this article
The Water Crisis in Canada's First Nations Communities
by Carina Xue Luo, Academic Data Centre, Leddy Library, published by ArcGIS StoryMaps, (2021)
Access this resource
How an Aboriginal approach to mental health is helping farmers deal with drought
by Georgina Kenyon, published by Mosaic, (2019)
Read this article
Catherine Owen is Head of Geography at The King Alfred School an Academy, a CGeog and a Geographical Association Consultant. She writes and presents for OUP, Hodder Geography, Tutor2U and more.

Text © Catherine Owen, 2022-2023