How will these resources help you?
The United Nations, in their 2019 Population Prospects analysis, project a global population of 11 billion by 2100 – an increase of 3 billion over the next 78 years. While these figures are being challenged, one thing is for sure; this will bring significant challenges to the way we live. Without major adjustments towards more sustainable living and away from consumer culture, we threaten the planet's ability to provide for this many people. These resources explain these threats, but also how perhaps things may not be as catastrophic as they seem. How we source food requires a technological revolution in the agricultural sector. From these resources, teachers and students will be able to weigh up the debates, as there are very few (if any) topics studied in Geography that are not affected by population increase.
Pessimism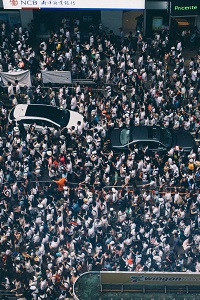 7.7 Billion People and Counting
by Chris Packham, published by BBC Horizon, Daily Motion, (2020)
An ideal place to start at any level. Packham explores the effects of population rise worldwide and paints a bleak picture of what is to come. He visits Sao Paulo to investigate water shortages as the megacity continues to sprawl. While in Brazil, Packham explores the effects of agriculture on the rainforest and the loss of endemic species. Then comes Nigeria, where he explores the high birth rates and the incredible community of one million people that live in the lagoon in Lagos in houses on stilts. After visiting vast landfill sites, he shares a glimmer of hope by visiting London's subterranean farms. Packman consults experts throughout the documentary who share their views on the future. Students are always engaged with this film, which can be supported by a question sheet that is widely available online to help them structure their notes.
Optimism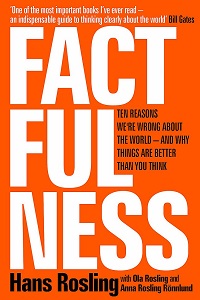 Factfulness: 10 reasons we're wrong about the world – & why things are better than you think
by Hans Rosling, Ola Rosling and Anna Rosling Rönnlund, published by Sceptre, (2019), 9781529387155
This book by Hans Rosling et al. comes from a very different perspective. As one review stated, the book is 'an assault on pessimism' in that it seeks to reassure us that population rise is not something to be concerned about. As countries become wealthier, birth rates fall. This is the book version of Hans Rosling's entertaining Gapminder lecture of 2013 'Don't Panic'. The well-known Gapminder graphs are included, as well as the quizzes to determine what we already think we know. In the lecture, he talks about the farmer in Mozambique that improves his family's life by buying a bike, and this is also included here, as he breaks down development and poverty levels by types of transport ownership. The book contains more up-to-date statistics than the lecture, although it is important that students are aware that with resources based on polar opposite levels of optimism, we can prove what we want with statistics. An excellent account of the future of population and development.
Feeding 10 Billion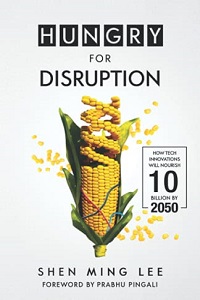 Hungry for Disruption: How tech Innovations will nourish 10 Billion by 2050
by Shen Ming Lee, published by New Degree Press, (2019), 9781641372084
This book approaches population growth by identifying ways that we can provide more food as the population reaches 10 billion by 2050. The writer offers a futuristic vision for embracing the scientific and technological advances in food for the coming decades. She explores how breakthrough innovations in smart agriculture, novel farming systems, genomics, cellular agriculture and food waste management will play a key role in the future of food and agriculture. She sets the scene by identifying that nearly all the population growth will come from developing countries and by the time we reach 10 billion, 70% per cent of the world will be urbanised. An agricultural revolution is essential as we run out of countryside in which to farm. This book is very accessible background reading for those studying GCSE units such as The Challenge of Resource Management, and A-level units on Population and the Environment.
Unsustainable Living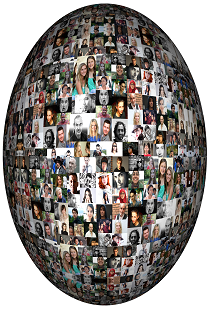 Population Matters
published by @2022 Population Matters
Population Matters campaigns to achieve a sustainable human population, to protect the natural world and improve people's lives. The website contains a wide range of resources for the classroom and for students to explore independently. As well as a real-time population tracker and a range of videos, graphs and infographics, the site explores impacts on biodiversity, climate change, poverty and resources. The key message is that we are not living sustainably and must consume responsibly. There is a section on solutions, as well as an investigation into overpopulation on the UK. David Attenborough is a patron of this campaign, who said 'saving our planet must mean ending population growth', which he sees as the source of all our problems.
Audiovisual clip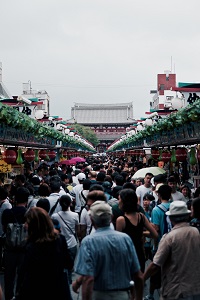 Andrew Marr's Mega Cities - Tokyo's population problem
published by BBC, (2011)
This clip investigates how millions of inhabitants found a solution to living in the most populated megacity in the world.
How far will global population rise? Researchers can't agree
by David Adam, published by Nature, (2021)
Read this article
World's population is projected to nearly stop growing by the end of the century
by Anthony Cilluffo and Neil.G Ruiz, published by Pew Research Centre, (2019)
Read this article
David Newell is Head of Geography at Millais School in Horsham, West Sussex. He has held the GA's Secondary Geography Quality Mark since 2015, and has worked as a Specialist Leader in Education, advising schools on improving their Geography provision.

Text © David Newell, 2022.