How will these resources help you?
One key aim of GCSE Geography is for students to understand the interactions between people and environments, change in places and processes over space and time and the interrelationship between geographical phenomena at different scales and in different contexts. Progression at A-level involves recognising and analysing the complexity of people-environment interactions at all geographical scales and better understanding the concepts of place, space, scale and globalisation. These resources provide interesting starting points for exploring ideas about places becoming connected as part of a global-scale system. Ideas drawn from these books may develop students' synoptic competencies (their ability to make links and connections between different geographical ideas and themes).
An inside look at container shipping and the way our 'shrinking world' really works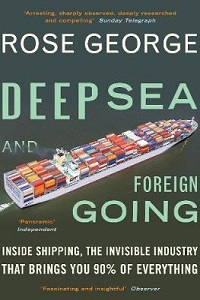 Deep Sea and Foreign Going
by Rose George, published by Granta Books, (2013), 9781846272998
In this memoir of time spent aboard a massive container ship on its five-week journey from Felixstowe to Singapore, Rose George encounters pirate gangs and whale scientists while documenting the day-to-day graft of the hardworking crews who ensure commodities continue flowing seamlessly through the global economy's ever-more congested shipping corridors. The book is richly illustrated with facts and figures about the global container trade scale, accompanied by lively and colourful anecdotes that can help bring to life the idea of a 'shrinking world' for students. Aimed at the general reader, this text has won praise for the quality of language: extracts might even be used directly with classes. It is considered a remarkable work of embedded reportage – at times it is exciting and witty, but it also handles the situations with compassion.
How a local beach has been reshaped over time by local and global forces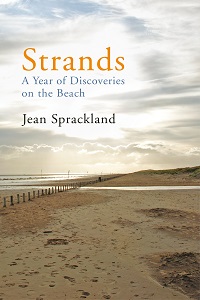 Strands: A Year of Discoveries on the Beach
by Jean Sprackland, published by Penguin Books, (2013), 9780099532439
This remarkable series of essays is the product of author Jean Sprackland's time spent walking on Formby and Ainsdale beaches in the north-west of England, just north of Liverpool (a location which many schools use as a case study for physical geography teaching about depositional sandy beaches and sand dune ecosystems). Also aimed at the general reader, this book brings to life all kinds of wonderful links and connections between Formby beach and other places worldwide. Sprackland reflects on how local beaches in the north-west of England (and coastal landscape) have been shaped over time by global connections (both physical and human). Physical processes, including ocean currents, combine with the human processes of trade and migration to shape a densely connected, layered and outward-looking landscape. Stranded sea creatures and ancient footprints in the sand tell tales of changing tides and sea levels over different timescales ranging from hours to thousands of years. Sea wrecks – such as the Star of Hope, wrecked on Mad Wharf in 1883 – offer a glimpse of how the world economy worked in the late 1800s (and Liverpool's vital role as a global hub). The book even explains how the piles of old tobacco waste exposed by Formby's retreating dunes offer clues to neighbouring Liverpool's shameful past role in the transportation of various enslaved African people to the Caribbean. This book is a tour de force in 'joined-up thinking' for geographers.
A thought-provoking look at the causes and consequences of offshored work and wealth in a globalised world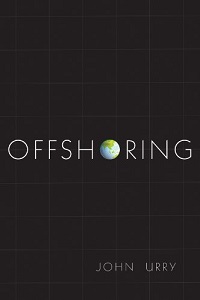 Offshoring
by John Urry, published by Polity Press, (2014), 9780745664866
This book is more academic in tone than the previous books, with over-arching concerns about global injustice and power. It is an informative and impassioned account of the consequences of an offshoring world and a stark critique of the offshored condition. Post-COVID, the world has woken up to just how much we have come to depend on supply chains and offshore production. At a time when more students may be asking pertinent questions based on personal experience about shelf shortages and rising costs in local supermarkets, this book helps supply answers. Urry explores offshoring from economic, political and environmental perspectives. He explains how capitalist forces have optimised production patterns but in ways which create new risks and vulnerabilities while also creating new power distributions and differentials. Some familiarity with this thoughtful and academic text may help teachers deliver the 'Global systems and global governance' component of A-level courses.
Audiovisual clip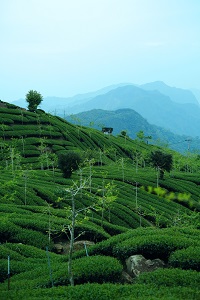 This World - Exploitation on tea plantations
published by BBC, (2014)
Insights into one of the downsides of globalisation: exploitation of local populations in Kenya.
Globalization: A Very Short Introduction
by Manfred B. Steger, published by Oxford University Press, (2020), 9780198849452
Find this book
An Introduction to Economic Geography: Globalization, Uneven Development and Place
by Danny MacKinnon and Andrew Cumbers, published by Routledge, (2018), 9781138924512
Find this book
Dr Simon Oakes is an experienced teacher who has worked as a chief or chair of examiners across a wide range of 14-18 qualifications. He is the series editor for Hodder's Geography Topic Master series and an associate editor for Geography Review.

Text © Simon Oakes, 2022.