How will these resources help you?
Following the extreme temperatures of July 2022, a UK Cabinet Minister said that the 'UK must learn to live with extreme weather' and that 'the impacts of climate change are with us now'. 2022 saw Met Office red warnings of winds that closed schools and damaged infrastructure, and temperature records broken as parts of the country reached 40.3oC. As geographers, we are accustomed to studying extreme weather events in tropical regions, but less so closer to home. GCSE and A-level specifications now include this topic as part of their hazards units. However, books on the subject are as yet limited. The resources provided here offer up-to-date case studies and discuss how we can adapt to this new phenomenon and what we can expect to come.
The role of climate change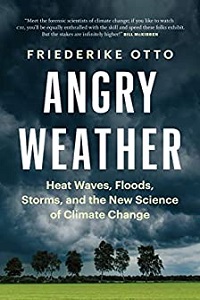 Angry Weather: Heat Waves, Floods, Storms, and the New Science of Climate Change
by Friederike Otto, published by Greystone Books, (2020), 9781771646147
The very timely book explores what the writer calls the 'new science' of the role of climate in our weather and explains how scientists can now quantify humanity's role in extreme weather. The writer refers to the UK's extreme weather and its commitment to becoming carbon neutral. The Prologue offers an excellent recap of the fundamentals of climate change, supported with evidence. Part 1: A New Branch of Research attempts to define extreme weather and provides a useful summary of how UK weather has become more extreme. Chapters 4 and 5 are key: both analyse the role of climate change in extreme weather, with Chapter 5 focusing on particular types of extreme weather and how climate change creates it. This is an accessible book which can provide stretch and challenge for GCSE students and above, as well as good support for teachers, both specialist and non-specialist.
Past extreme weather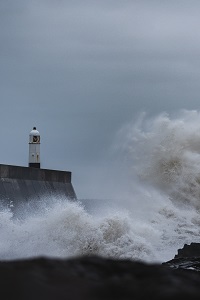 Past weather events: Case studies of past severe weather events
published by Met Office, (2022)
This Met Office resource summarises extreme weather events going back to 1990. Students will see that UK weather is becoming more extreme by the number of events recorded each year. For example, by July 2022, five severe storms had already been listed, as well as the unprecedented heatwave in July. Before 2014, some years recorded only two events for the year. This statistic supports the view that we are entering a warming period that is upsetting the balance of our weather systems and that these events look set to continue. An excellent range of geographical information is provided through maps, climate graphs, satellite images and metrological charts to support students' practice interpreting geographical data (GCSE and A-level). Students can use this site for independent research and do compare and contrast activities on the effects of storms and flood events.
Storm Eunice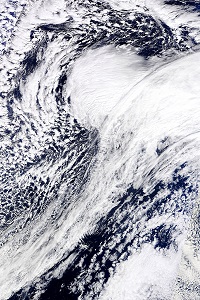 Storm Eunice: Death and damage across UK
published by Channel 4 News, (2022)
A detailed and authoritative report on Storm Eunice, ideal for students of any Key Stage when creating a case study of a UK extreme weather event. The main thread analyses the UK's resilience to extreme weather. Students can reach their own conclusions by exploring the effects and responses to the storm and suggesting ways to improve. The storm is described as 'one of the many more depressions caused by global warming'. Starting in the Southwest, the report moves to Wales and onto London. In each area, storm footage and personal testimony reveal the extent of the damage caused. The report interviews the Environment Secretary, regional rescue services and local governments and shows the level of cross-agency communication and real-time data provided by the Met Office to guide response.
The future in your area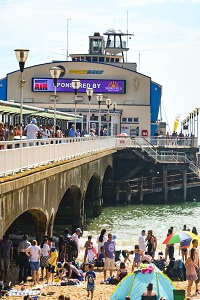 What will climate change look like near me?
by Becky Dale and Nassos Stylianou, published by BBC News, (2022)
This BBC and Met Office resource reveals an excellent range of geographical data on how climate change will affect postcode areas and the mid-point of a range of possibilities based on the Met Office's most recent modelling projections. The methodology is explained at the end of the resource. The data is presented in various ways, including pictograms, choropleth maps and graphs, giving students practice interpreting a range of geographical data (GCSE AO4 and A-level AO2). KS3 students would also benefit from this resource in units on Weather and Climate and Natural Hazards. An interesting independent task could be for students to hypothesise about the differences between regions and test this through the resource.
Audiovisual clip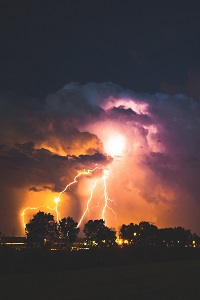 Britain's Wildest Weather - From Mild to Wild
published by Channel 4, (2020)
An explanation of how and why Britain's weather can change significantly and become extreme in certain circumstances.
Record breaking temperatures for the UK
, published by Met Office Press Office, (2022)
Access this resource
Cooling the City: How can we adapt and prepare our cities for extreme weather conditions? (Podcast)
by Gaia Vince, published by BBC News World Service, Discovery, (2018)
Access this resource
Mapped: How climate change affects extreme weather around the world
, published by Carbon Brief, (2022)
Access this resource
David Newell is Head of Geography at Millais School in Horsham, West Sussex. He has held the GA's Secondary Geography Quality Mark since 2015, and has worked as a Specialist Leader in Education, advising schools on improving their Geography provision.

Text © David Newell, 2022.