How will these resources help you?
Ecotourism is a good thing, surely? These resources will help you delve into the question of whether ecotourism makes a difference, exploring the benefits of this approach in tackling problems caused by mass tourism, exemplified by successes in Costa Rica. Next, these resources will take you deeper into the crisis caused by over-dependence on ecotourism in Monteverde and ask whether the concept of ecotourism is an oxymoron, allowing business to greenwash their products. The further reading options consider stories of both success and limitations of ecotourism, leaving you with questions about the best way forward to achieve a sustainable tourism industry and maybe even some answers!
Is the world overbooked?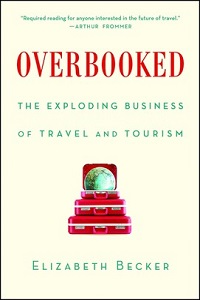 Overbooked: The Exploding Business of Travel and Tourism
by Elizabeth Becker, published by Simon & Schuster, (2016), 9781439167502
This book is an excellent introduction to the impact of mass tourism, setting the scene for why some think ecotourism is needed. Becker explores the impact of tourism across the world, including the threat of Venice collapsing under the weight of its tourism industry, the damage to heritage sites in Thailand and the benefits brought by Costa Rica investing in ecotourism rather than farming cattle for meat. Potential benefits of tourism for less developed countries are explored. However, Becker recognises that tourism could lead to degraded environments and reduced living standards due to the leakage of money to transnational corporations. The environmental cost to our oceans of cruise ships is explored, along with the impact of cultures being turned into commodities. This book leaves the reader with a new appreciation of the scale of the travel and tourism industry and its complexity, and is a great read for teachers and older students.
How Costa Rica is leading the way in ecotourism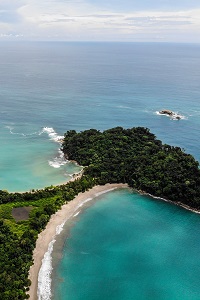 Costa Rica Matures From Ecotourism Pioneer to Industry Leader
by Raini Hamdi, published by Skift, (2019)
As identified in Overbooked, Costa Rica has become a world leader in ecotourism. This article looks at how the Costa Rican government manages ecotourism and provides inspiration for others. Moving from ecotourism to embracing a 'wider vision of sustainability' has led to a focus on ensuring that the growing number of tourists visiting the country don't only visit a small number of locations. Spreading tourism across the country means particular areas don't become overdeveloped and the wealth gained from tourism benefits quality of life in more communities. There is a focus on developing small- and medium-sized hotels and ensuring that tourism development takes place in areas that can withstand it while fragile areas are protected. Questions are often asked about whether ecotourism can be scaled up beyond the local level; this article suggests it can.
When ecotourism goes wrong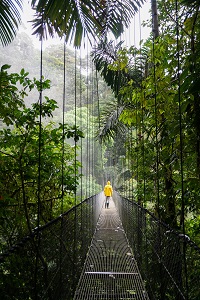 A town in Costa Rica faces an eco-tourism crisis
by Reena Shah, published by National Geographic, (2020)
While the previous article celebrates sustainable tourism successes in Costa Rica, this article looks at what happens when the tourists stay away. Monteverde in Costa Rica was a tourism hotspot before the COVID-19 pandemic stopped travel, leaving 'most households without a steady income'. The government provided aid to support families for three months and many people returned to small scale agriculture to survive. Community leaders supported commercial farmers in changing their production to meet the needs of local communities rather than tourist hotels. The importance of diversity in an economy is highlighted throughout the article. While ecotourism can be an important source of wealth for a community, over-reliance on one source of income is never a good idea.
Is ecotourism a hoax or can it make a real difference?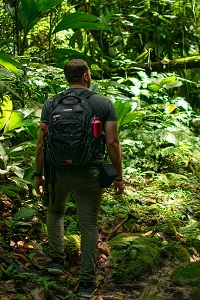 Outrage: the ecotourism hoax
by Smith Mordak, published by The Architectural Review, (2020)
The first sentence of this article suggests that ecotourism is an oxymoron, while the second paragraph indicates that adding the prefix 'eco' is little more than greenwashing. Smith explores the embodied carbon problem in ecotourism and criticises its elite nature: 'It's the privilege of an elite few who can afford to adorn their Instagram accounts with views from secret coves accessible only by expertly piloted Polynesian outrigger canoes.' While ecotourism aims to minimise negative impacts, Smith suggests that they are no longer sustainable when these impacts are multiplied. However, Smith concludes by saying that lessons can be learnt from ecotourism to build a new culture of responsible travel. This article provides a good counterargument for resources, suggesting that ecotourism in its current form is the way forward, and would be particularly useful to challenge older students to interrogate their thinking on this issue.
Audiovisual clip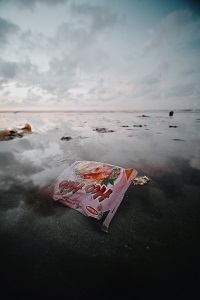 Indian Ocean with Simon Reeve - Waste in the Maldives
published by BBC, (2012)
Eco-friendly tourism has long been a publicised standard in the Maldives, but this clip shows the other side of the coin.
Overtourism: Lessons for a Better Future
by Martha Honey and Kelsey Frenkiel (edited by), published by Island Press, (2021), 9781642830767
Find this book
Conservation in crisis: ecotourism collapse threatens communities and wildlife
by Patrick Greenfield and Peter Muiruri, published by The Guardian, (2020)
Read this article
Ecotourism's Post-COVID Comeback
by Johan Augustin, published by Suston Magazine, (2021)
Read this article
Hope for Growth? The Potential and Pitfalls of Ecotourism in Colombia
by Samuel Arnold-Parra, published by Global Risk Insights, (2021)
Read this article
Catherine Owen is Head of Geography at The King Alfred School an Academy, a CGeog and a Geographical Association Consultant. She writes and presents for OUP, Hodder Geography, Tutor2U and more.

Text © Catherine Owen, 2022-2023