How will these resources help you?
These resources enable readers to dive below the surface of our oceans and explore the fascinating ecosystems that are coral reefs. They offer beautiful pictures and illustrations, examples and up-to-date scientific knowledge. The range of information in these texts is vast, covering coral reefs as ecosystems, the threats to these ecosystems and how scientists research an area in which we cannot breathe (an area my own students were fascinated by). Coral reefs are complex, as are the problems and solutions they face. These resources warn about the present situation while offering hope for the future.
Coral reef exploration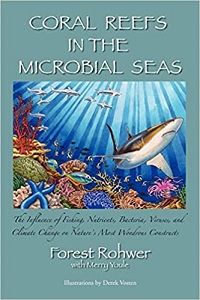 Coral Reefs in the Microbial Seas: The Influence of Fishing, Nutrients, Bacteria, Viruses and Climate Change on Nature's Most Wondrous Constructs
by Forest Rohwer and Merry Youle, illustrated by Derek Vosten, published by Plaid Press, (2010), 9780982701201
This book will hook geographers and biologists from the first page. The authors have written a detailed account of coral reefs and the threats they face with amusing anecdotes and beautiful illustrations. The book discusses the complex ecosystem of a coral reef, ranging from microbes to sharks and how the whole system is impacted by human and microbial activity. It enables young and older readers to learn how scientists study the reefs and how reefs have changed from the first explorations. It also shows how reefs have been changed by local human impacts such as overfishing and nutrient enrichment, no matter how healthy they initially seem. I have shown younger students illustrations and diary method entries as lesson starters. As the book also focuses on the scientific methods, you can use it to encourage fieldwork and method evaluation. A fantastic read that encourages thinking about the impact of human activity on coral reefs, as well as how to solve some of these issues.
The World Beneath: The Life and Times of Unknown Sea Creatures and Coral Reefs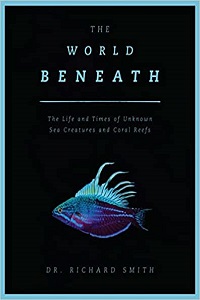 Coral reefs and their inhabitants
by Dr Richard Smith, published by Apollo Publishers, (2020), 9781948062220
A beautifully illustrated book that will capture students' imaginations. This book focuses on the present situation of coral reefs and the amazing variety of life in these fragile ecosystems. Dr Smith has managed to bring the underwater to the surface through his descriptions and pictures. This is a great book to share with students and to help them appreciate this ecosystem. It has often led to great discussions, and students have gone on to research coral reefs independently. If you would like to know more about what it is like for those lucky individuals who get to dive into them, this is the book for you.
Coral reefs, past and present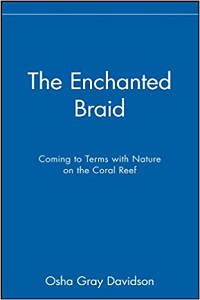 The Enchanted Braid: Coming to Terms with Nature on the Coral Reef
by Osha Gray Davidson, published by Wiley, (1998), 9780471177272
A beautiful book on coral reefs that highlights the issues coral reefs face while educating readers on their ecosystems. Teachers will find this a wonderful aid as it highlights vital issues with examples, enabling a deeper understanding of the issues corals face. I really enjoyed the way Davidson uses Darwin's points to convey meaning and understanding, which shows the importance of history and geography to students, as well as how they can all be explorers themselves. Many books on climate change and coral reefs tend to offer little hope, however, this book is inspiring.
Coral reef management and the future…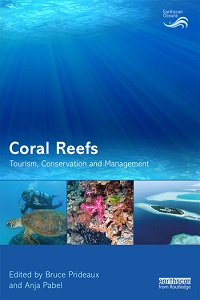 Coral Reefs: Tourism, Conservation and Management
by Bruce Prideaux and Anja Pabel (edited by), published by Routledge, (2018), 9781138497313
This book looks at coral reef protection by focusing on tourism and how its growth can lead to damage but also offers possibilities for the future. Specific issues, such as climate change, pollution, fishing and tourism, are addressed by examining different famous coral reef areas. The book is excellent for case study material and a good read for higher geography and biology students. Conservation and management are discussed in ways that enable the reader to come to their own conclusions about the future of coral reefs. Teachers can use examples and ideas to create discussions and decision-making exercises. The author's way of looking at the coral reefs as a benefit to humans through tourism and other activities enables readers to grasp why they matter, and shows students the situation is not completely irreversible.
Restoring Coral Reefs
by Office of Habitat Conservation, published by NOAA, (last edited 2021)
Visit this website
Life on the Rocks: Building a Future for Coral Reefs
by Juli Berwald, published by Riverhead, (2022), 9780593087305
Find this book
Sarah Darby is a Geography teacher who studied hurricanes for her dissertation. She writes geography course material and case studies.

Text © Sarah Darby, 2022.