How will these resources help you?
Many children will have heard of Christopher Columbus, whose voyages changed the world. In the USA, an annual federal holiday celebrates his achievements. Yet there is controversy over whether he should be celebrated at all, because his expeditions led to the colonisation of America and genocide of Native Americans. On Hispaniola, where Columbus first landed, the Taíno people were all wiped out. It is important to discuss with children whether Columbus was a hero, a villain or a mixture of the two. The issue is topical: in summer 2020, protesters pulled down statues of Columbus in the USA and such discussions continue about many historic figures around the world.
It is hard to teach the other side of the Columbus story because victors write the history: there is no record of Taíno viewpoints. We can use non-fiction books that compare the experiences of Columbus and other European explorers with those of indigenous Americans. Fiction titles provide the Taíno perspective missing from the historical record. We can also draw on other accounts of first contact between Europeans and indigenous Americans, such as the well-known story of Pocahontas in Virginia. You could introduce the debate with these online resources:
Was Columbus a Hero or Villain?
and
Why Columbus Day Courts Controversy
.
European age of exploration and indigenous societies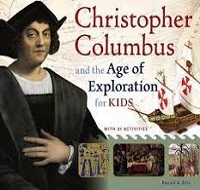 Christopher Columbus and the Age of Exploration for Kids
by Ronald A. Reis, published by Chicago Review Press, (2013), 9781613746745
This detailed book includes chapters on all of Columbus' voyages, interspersed with chapters on indigenous American societies. It assesses the impact of his explorations, both positive and negative. Rather than starting with Columbus' story, I suggest focusing on Chapter 4 about indigenous peoples to gain an understanding of the complex cultures of the Maya and Aztecs (the Taíno were an Aztec people). Pupils may have studied the Maya at KS2. You could examine an encounter between Columbus and the Aztecs. and ask pupils to think about the differing expectations of the two sides. This book includes related activities, such as tying nautical knots and simulating a hurricane, which may help to engage reluctant readers.
A Taíno perspective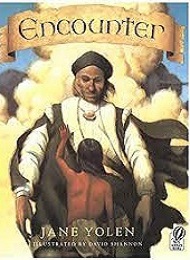 Encounter
by Jane Yolen, published by Cengage Learning, (1996), 9780152013899
This is the story of a Taíno boy who foresees Columbus' arrival in a dream. Realising that Columbus seeks wealth rather than friendship, he tries to warn his people but his warnings are ignored. Years later, he looks back at his life and explains how his community was destroyed.
This fiction title is based on historical fact. You can use it help children to understand the Taíno viewpoint and how it might influence their views about Columbus' impact. This imaginative telling of the story is popular among educators; although aimed at primary readers, it provides a useful perspective for Key Stage 3 pupils.
A European cabin boy and a Taíno woman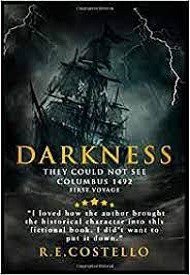 Darkness They Could Not See
by Ronald Costello, published by Gold Sun Publishing, (2019), 9780988654969
Based on Columbus' first voyage to the Caribbean, this story is told in chapters alternating between the experiences of Higuemota, a Taíno woman, and Pedro, a cabin boy, with Columbus' story interspersed throughout. It describes the relationship between Higuemota and Pedro, and the clash of cultures between their peoples. Although many children's books focus on Columbus, there are still relatively few that describe the lives of indigenous peoples. As well as an engaging story, this 400-page book is a good source of information about Taíno culture. You could select a few chapters to compare European and Taíno customs, and the causes of conflict between them.
Audiovisual clip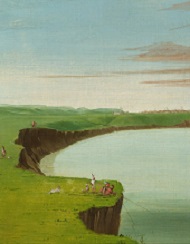 Civilisations - Native American Indigenous Peoples
published by BBC, (2018)
This video tells the story of George Catlin and how he tried to better the Indigenous Americas' conditions through his paintings.
Christopher Columbus
by Martin Howard, published by A&C Black Children's & Educational, (2011), 9781408132654
Find this book
Columbus: His Enterprise: Exploding the Myth
by Hans Koning, published by Monthly Review Press, (1991), 9780853458258
Find this book
Pocahontas
by Joseph Bruchac, published by Houghton Miffin, (2003), 9780152054656
Find this book